We are officially Shopline's Singapore Partner of the Year!
Our team is extremely honoured to be accorded such a prestigious award by Shopline! Being its partner that with the highest sales volume in 2021, we are proud of our achievements and we could not have done it without you!
A heartfelt appreciation to our clients for trusting us, and of course not forgetting the supportive Shopline team which has extended so much help to us!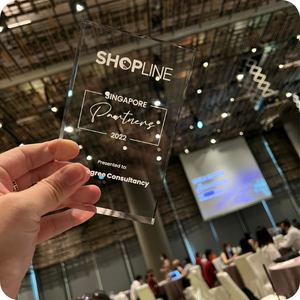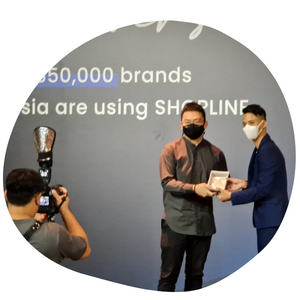 Our role as a Business Partner
Being an official authorised partner of SHOPLINE allowed us to assist many businesses that were looking for solutions to their E-commerce problems.
We recommend SHOPLINE because we know how much it enhances the growth of a business. Clients are able to create online ads, personalised campaigns and get real-time performance reports right within a single platform. Everything that SHOPLINE offers is designed for companies looking to expand their e-commerce capabilities.
How SHOPLINE does it?
SHOPLINE is a full-featured platform with services to empower brands to succeed in eCommerce, Social Commerce, Online-to-Offline and Cross Border Retail.
Being the largest E-commerce Enabler In Asia, SHOPLINE has helped over 350,000 brands go online and global. From our experience working with clients, here are some of the reasons why our clients like SHOPLINE:
Having Store and Inventory Management in one place
Clients love how easily they can manage all their daily e-commerce functions within the SHOPLINE dashboard consisting of their centralised inventory, order, visualised reports, and returns.
Equipped with CRM and Marketing Tools
One of our clients' favourite things about SHOPLINE is they can vastly improve their relationships with customers by segmenting and reaching out to them with personalised and/or automated marketing campaigns.
Multi-language, Currency, Payment Gateway and Logistics
For our clients who have an international brand, SHOPLINE was a great fit as it supports over 18 currencies and multiple language options for international shoppers.
Besides that, SHOPLINE is integrated with localised payment gateways and delivery service companies worldwide.
Real Time Performance Tracking
Business owners have told us that they have been able to make quicker and better business decisions as it is now much easier to visualise sales data and receive  unique insights.
What's more – SHOPLINE is a PSG pre-approved solution
In 2021, clients were able to tap on the Producitvity Solutions Grants to get up to 80% funding to acquire SHOPLINE. However, please note that the funding will end on 31 March 2022. If you are interested in a live demo of SHOPLINE, please contact us via the form. Alternatively, you can contact us at 6515 7906 or enquiry@361dc.com.