Employment Hero – HR & Payroll Solution

A simpler way to manage your payroll, people and productivity as your business grows
FREE DEMO
What is Employment Hero?
Employment Hero is one of the world's fastest-growing HR Software-as-a-Service (SaaS) companies. It connects and empowers more than 200,000 businesses globally with a suite of powerful human resource and employment management features.
Powerful tools to manage your team
at every stage 
Attracting top talent

Recruitment procedures

Payroll and payment

Learning and development

Managing turnover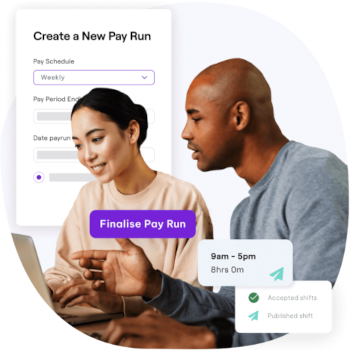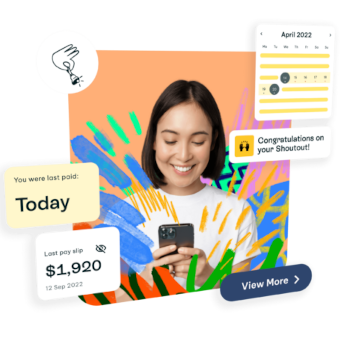 HR, staff engagement and career development
all in one
Manage all payslips, leave and timesheets in one place

Enable career referral programs

Boost team engagement

Reduce recruitment costs

Recruitment
Employment Hero helps hiring managers to automate many of the repetitive recruitment tasks, such as posting job openings on job boards, screening resumes and interview scheduling.

Employee Onboarding
Employment Hero helps to manage employee onboarding effectively, allowing new hires to integrate into the company easily.

Automated Payroll
Payroll automation keeps you updated on payroll expenses, saves you time and ensures that your employees are being paid punctually.

Employee Engagement
Improve employee engagement by utilising employee feedback surveys, employee recognition tools and engagement analytics.

HR Reports
Employment Hero provides reports on various HR-related data points, such as employee performance, employee turnover, workforce demographics and more.

Offboarding
Employment Hero's structured employee exit process and offboarding workflows ensures a secure and efficient offboarding process, one that protects your company assets, confidential data/information and reputation.
Employment Hero Frequently Asked Questions (FAQ)
Employment Hero is a all-in-one payroll and HR platform that covers every aspect of the employee life cycle. Through the seamless automated workflows, businesses can reduce the time-consuming tasks of having to manage its payroll, people and productivity. You can also connect Employment Hero with your accounting software to increase productivity further!
Employment Hero can be integrated with software such as Xero, Dynamics 365 Business Central, Go1 and Slack. Contact us to discuss further on API integration.
You can download the app from the Apple App Store or Google Play Store.
Team 361 is an official authorised partner of Employment Hero. Being a leading cloud integrator, we are proud to represent multiple software solutions. We provide unbiased recommendations and will only propose the most appropriate and value-for-money solutions for you, including the information on relevant grant support available.