What is DESIGNS.AI?
Designs.ai is an integrated Agency-as-a-Service platform that uses A.I. technology to aid users in creating, editing, and scaling content.
 It helps you to save time, cut costs, and simplifies your workflow.
Smart Design
Designs.ai uses machine learning to simplify your creative workflow. Less manual work, more time to focus on the bigger picture.
Auto-generates thousands of project variations

Analyzes your data to suggest the best content

Includes auto-resizing and content replacement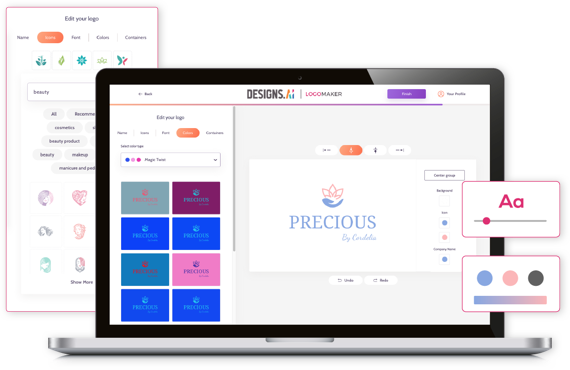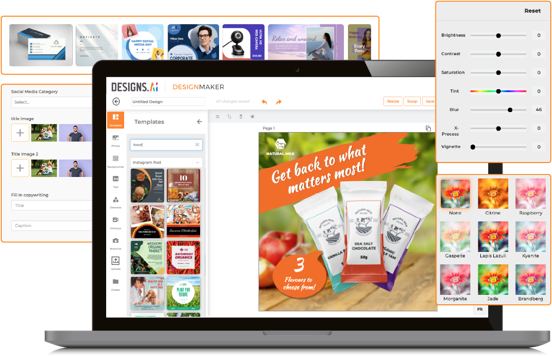 Fast Creations
Create full marketing campaigns in only 2 minutes with artificial intelligence. Quicker creation time, more clients and revenue.
Reduce manual design work by 70%-80%

Resize for all online and offline platforms

Keep all your creative assets in one place

Large Library
Over 20,000 templates in Designs.ai to choose from. Find the perfect graphics, fonts, and colors from a huge content library. Millions of clips and images; thousands of templates, graphics and elements.
Easy To Use
With its intuitive user experience, Designs.ai makes design accessible. You can create stunning visual content even as a beginner or non-designer.
Step-by-step creation across all tools.

Fully-licensed assets for commercial use

Simple editor to easily customize initial drafts

Free Assistive Tools 
GRAPHICMAKER – Free SVG vectors with in-browser editor

COLOR MATCHER – Use A.I. to match colors for the perfect color palette

FONT PAIRER – Generate stunning font pair combinations with A.I.

CALENDAR – A collection of all social media marketing holidays

Convenience
Online-based software. Work on projects on multiple browsers and devices. No installation required.

Automatic Generation
Our AI powered tools are built to help develop your ideas. Cut out manual work and let AI generate for you.

Unlimited Downloads
In Design.ai, you can enjoy unlimited of downloads as and when you need it.

For Every Type Of Content Creator
Creative tools perfect for Influencers, Small Businesses, Startups, Educators, Enterprises, Agencies, Nonprofit Organizations and Government Agencies

Easy Share And Collaborate
All your creations in social media-compliant sizes. Easily share project links and purchase multi-seat accounts for large teams.

Branding Kit
Apply consistent branding on all your creations. Apply your brand style on all your static images, videos, and mockups.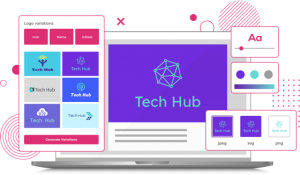 LOGOMAKER
Use our A.I. logo generator to launch your brand with a unique logo and a full brand identity kit. Choose from over 10,000+ icons.
Export your logo in JPEG, PDF, PNG and SVG

Kit includes style guidelines and brand narrative

Apply your brand's style across all your projects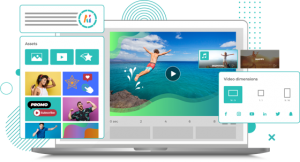 VIDEOMAKER
Use our text-to-video technology to transform articles, posts, and text scripts into powerful, fully-edited videos in more than 15 languages.
5.5M clips, 150M images, 100K audio files, 50 voices

Resize for Facebook, Instagram, Twitter, Tiktok, etc.

Stunning effects, transitions, animations and icons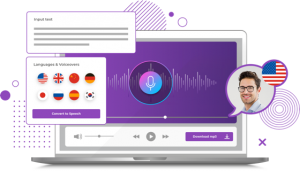 SPEECHMAKER
Our text-to-speech technology allows you to convert text scripts into realistic voiceovers with multiple languages, tones and pitches.
50+ high-quality natural-sounding voiceovers

Generate a voiceover in 15+ global languages

Use for sales videos, explainers, tutorials and more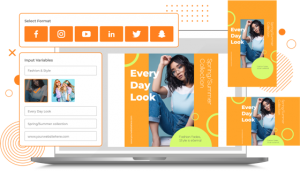 DESIGNMAKER
Simply input your text, select a dynamic design template, and use the design wizard to generate thousands of potential variations.
10,000+ stunning templates to choose from

Generate all your marketing collateral in seconds

The design wizard auto-generates and resizes
There's a reason why DESIGNS.AI has reached
250,000 satisfied clients & users!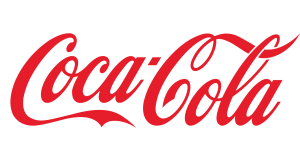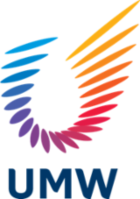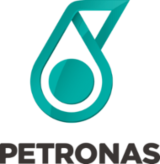 DESIGNS.AI Content Creation Software: Frequently Asked Questions (FAQ)
Creative automation refers to the use of artificial intelligence technology in the performance of creative production functions. AI optimizes the process in a number of ways:
Quickly analyzes vast amounts of data to generate high volumes of content

Automates repetitive, low-level tasks, e.g. design refinement, size adjustment

Eliminates potential human errors when producing content in the thousands

Simplifies audience personalization and localization with responsive templates
Through creative automation, Designs.ai allows agencies and freelancers to focus their time on client engagement, ideation, and strategy. Scaling across channels also becomes much easier with quick turnaround and high-volume creation.  In addition, with our collaboration feature, agencies and freelancers can streamline client communication and instantly share their work-in-progress for feedback and approval.
We currently offer 4 subscription tiers for the entire suite: Free, Basic, Pro, and Enterprise. However, you may also pay on a per project basis and/or contact us for a custom subscription plan.
Team 361 is an official authorised partner of DESIGNS.AI. Being a leading cloud integrator, we are proud to represent multiple software solutions. We provide unbiased recommendations and will only propose the most appropriate and value-for-money solutions for you, including the information on relevant grant support available.
Interested to arrange a demo?