Kaddra Mobile Loyalty Solution (Sunsetted)
Grow sales and increase customer retention through Asia's leading mobile commerce & loyalty solution
FREE DEMO
Kaddra Mobile Loyalty Solution is no longer available as of 15 October 2022. Please contact us should you be interested in other solutions.
What is KADDRA?

Kaddra is a Singapore-based technology company providing commerce and loyalty solutions for B2B and B2C sectors. It connects businesses's portfolio and services more efficiently with their customers through a white label end-to-end platform using a Mobile-First approach. Kaddra is easy to operate and cost effective. It can be launched in a matter of weeks.
Sell Smarter with Mobile Commerce
Mobile is now the leader in online shopping and has overtaken desktop. 
By harnessing the power of smartphone technology, we can simplify sales processes and improve loyalty at unprecedented levels. Our unique offering is already helping SMEs in over a dozen industries and we will continue to develop innovative tools for businesses to not only survive digital transformation but to thrive in it.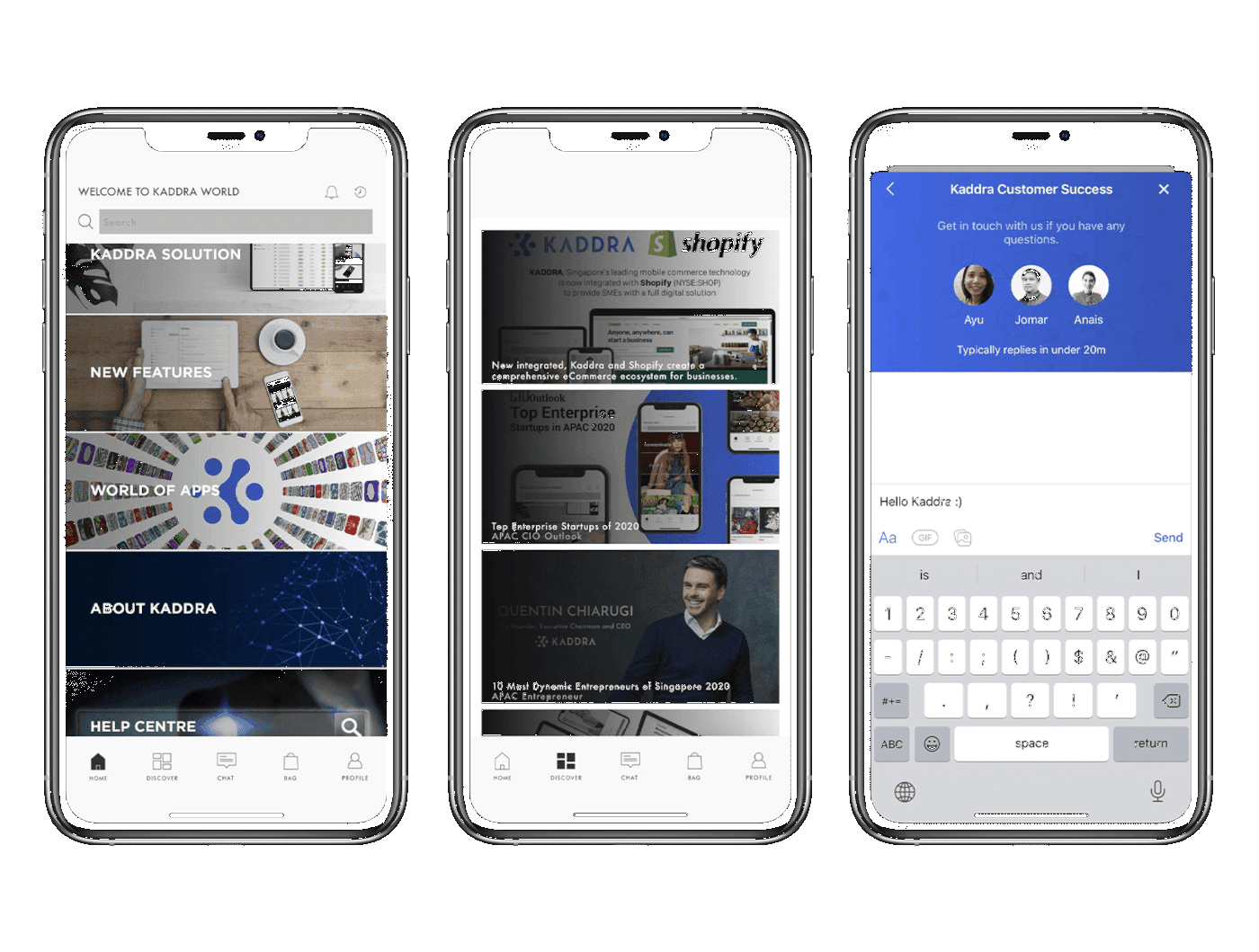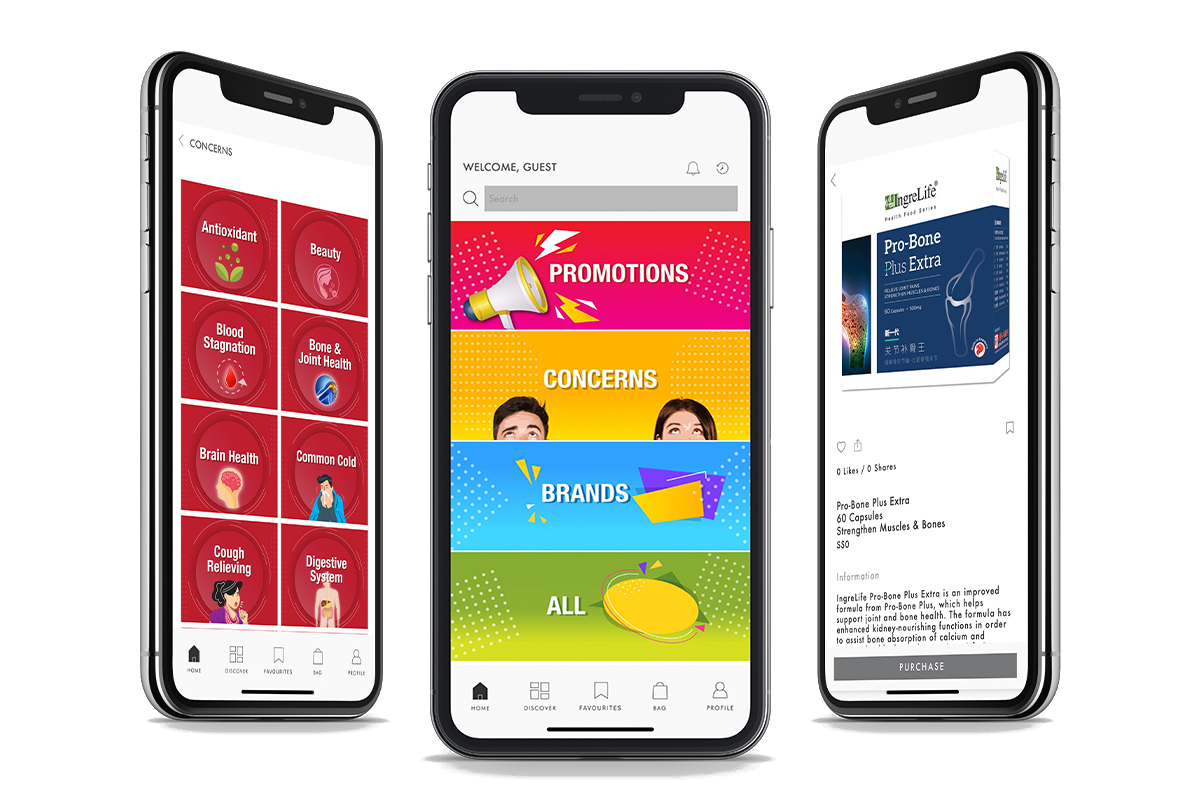 Fit your store in your customer's pocket
Your customers expect to buy from you, anywhere, anytime whether they are in your store or on the move. Sell more, more often and stay close to your customers. Not only can it provide convenience to customers, it will also save a lot of time on serving them face-to-face.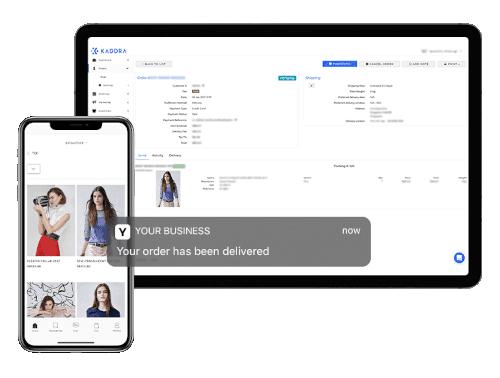 Kaddra Commerce
Kaddra Commerce is the perfect solution for any business ready to launch a new mobile sales channel. Our all-in-one platform has everything you need, including eCommerce, Payments, Logistics, Data Analytics, Marketing Campaigns, CRM, Content Management and much more.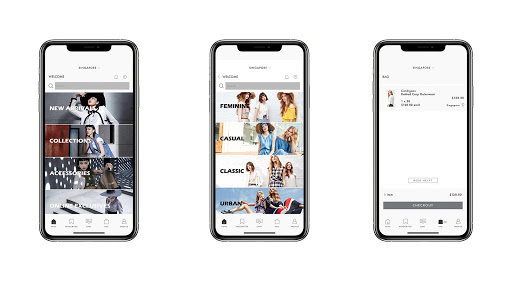 Reaching customers once they have left your online store has never been more challenging. With your own branded mobile app, you can stay connected to your customers and sell more, more often. Other than reaching customers via email, Kaddra has the push notification which will greatly increase the open and click-through rates.
With our seamless integrations, you can include Live Chat for excellent customer service, synchronise orders and products with your eCommerce platform and generate invoices in your Xero Accounting software.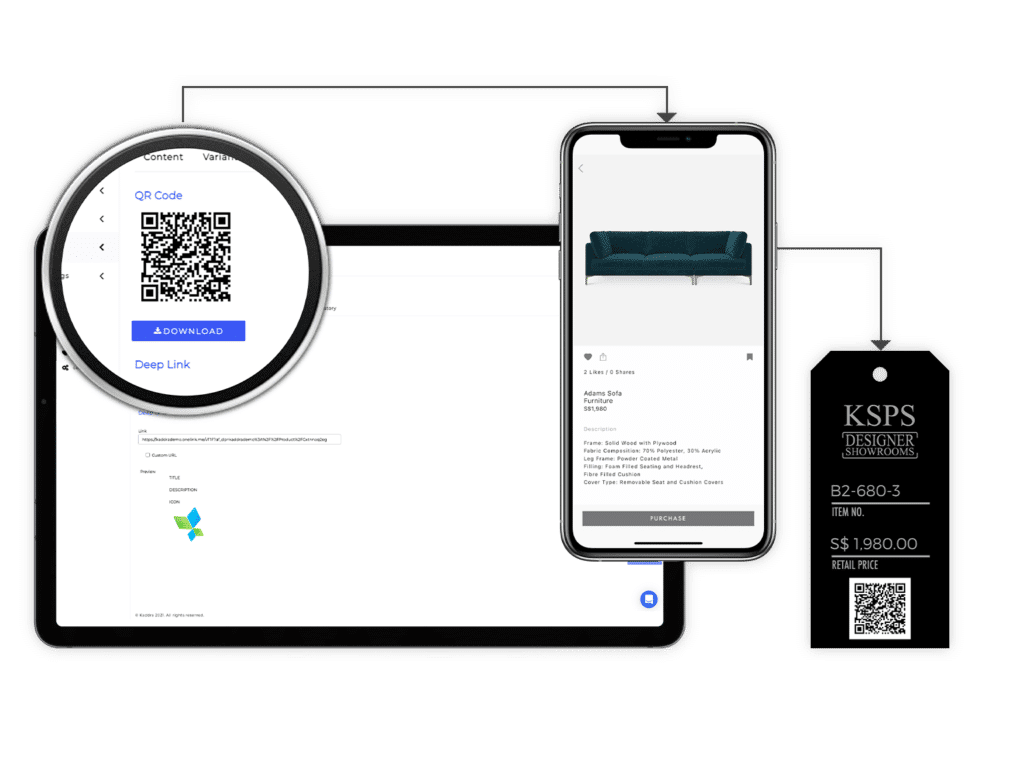 Kaddra Retail
Kaddra Retail is the perfect solution for any brick-and-mortar retailer to connect its physical store(s) with a digital sales channel. Customers can interact with your store using their smartphone, browse products, checkout, pay and even choose to collect or have it delivered.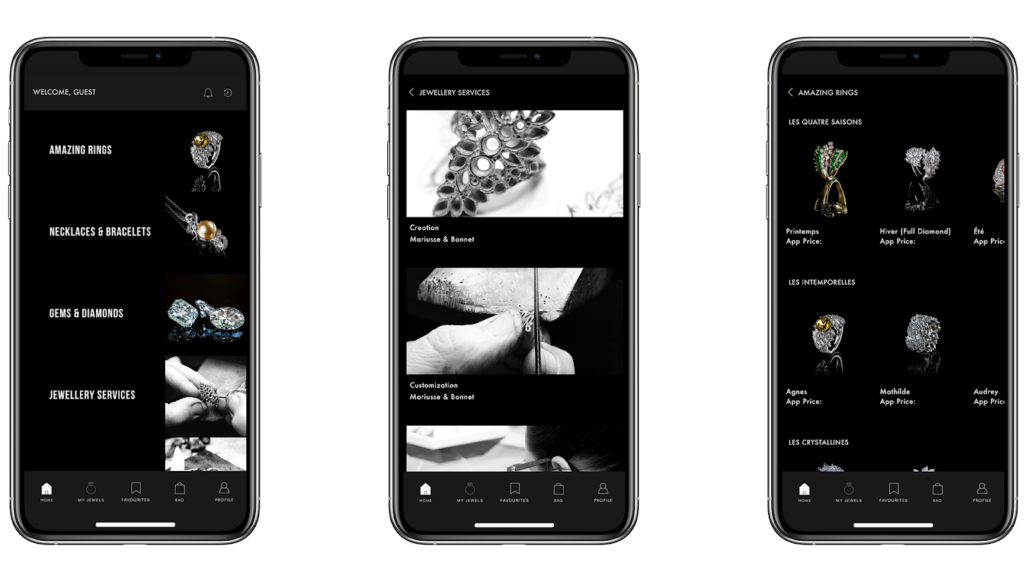 When they leave your store, they can still stay updated with all your news and offers. Kaddra Retail is a crucial tool to retarget and keep your customers close to your brand anywhere in the world. With the loyalty programme features within Kaddra, you can easily create customer tiering programmes or introduce VIP memberships to boost their loyalty.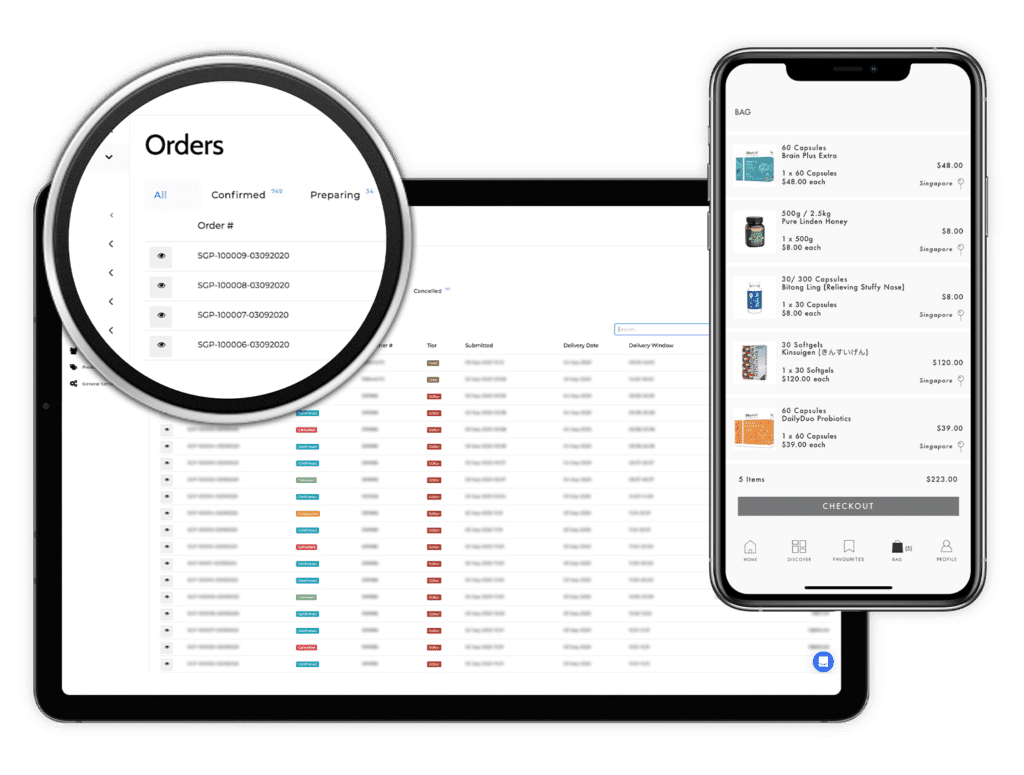 Kaddra Wholesale
Improve sales and marketing productivity and dramatically reduce the time and resources spent by your sales and admin team to process orders every day. Simplify the ordering process, removing errors, missing information, out of stock products and more.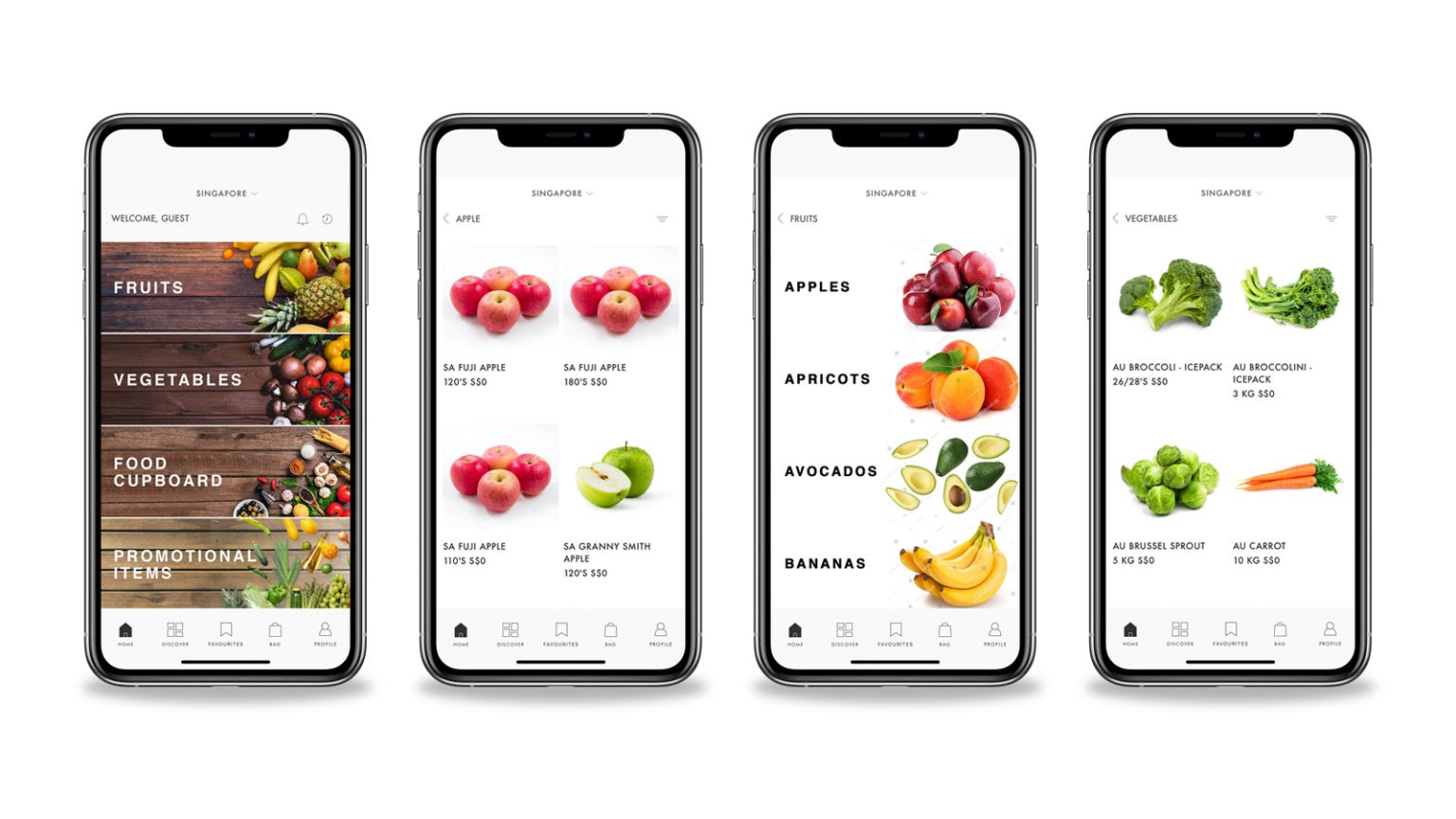 Make your product catalogue accessible in an interactive consumer-grade quality branded app, that enables your customers to order using a self-service model. Enable your marketing team to reach customers instantly with a push notification campaign tool and CRM. You will never miss the opportunity to sell more to those forgotten customers again.

Food Ordering & Same-Day Delivery

Food ordering has never been simpler; do away with clunky PDF menus accessed via a QR code. Bring life to your menus, and in just a few clicks, customers can order for delivery or pickup.

Contactless Shopping
Provide a true contactless shopping experience by allowing customers to scan QR Codes and checking out with your branded app, minimizing queue times and reducing stress and time spent for your team.

Push Notification Marketing
Reach your customers instantly and consistently with push notifications. Enjoy 10x open and click-through rates and fully engage your customers without cluttering their email inbox.

Native Checkout
Offer customers the most convenient way to order with a seamless native checkout and dramatically reduce drop-offs. Let your customers quickly reorder with stored credit-cards and an instant reorder function. Apple Pay, Google Pay, PayNow and all major credit cards are accepted.


Integrated Delivery Services
Deliver fast and on-time with the best logistics partners for a flawless delivery experience that will keep your customers satisfied and coming back for more!

Persistent Shopping Cart
See what customers add to their cart and engage with them at a personal level to accelerate sales. Keep track of the sales pipeline of individual items and optimise inventory flows.
Live Chat
Chat with your members in a managed way and look after them 24/7. Never miss a message again and instantly answer queries as your members browse your branded app.

Member Tiering
Reward your members with preferential pricing, early access to products and events. With unlimited tiering, you can consistently provide value to your members.
Clients that have adopted Kaddra!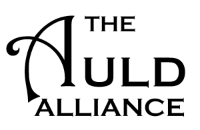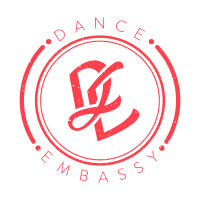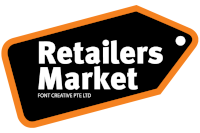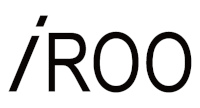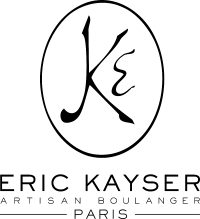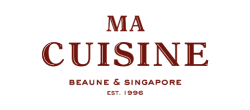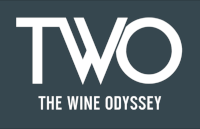 Kaddra Mobile Loyalty Solution: Frequently Asked Questions (FAQ)

Team 361 is an official authorised partner of Kaddra. Being a leading cloud integrator, we are proud to represent multiple software solutions. We provide unbiased recommendations and will only propose the most appropriate and value-for-money solutions for you, including the information on relevant grant support available.
Interested to arrange a demo?