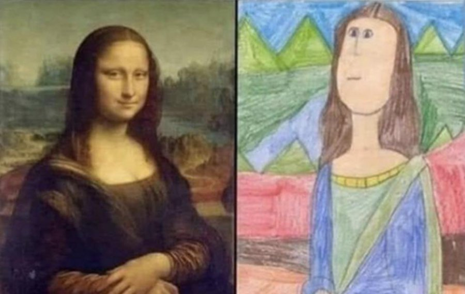 Are all Xero partners the same?
Let's say you needed a skilled artist to draw a portrait of yourself. Would you opt for the renowned Leonardo da Vinci who painted Mona Lisa on the left, or would you rather go for an unknown person who painted the picture on the right?
Similarly, if you needed medical treatment, would you consult an experienced doctor or someone who is unheard of?
Such is the importance of reputation and credibility. Do not risk putting yourself in an awkward position where you totally have no clues about your selected vendor's quality of service and their ability to deliver. Not all Xero partners are the same!
You fully deserve to enjoy the services provided by the best Xero Platinum Partner! Check out the differences below!
Why are Xero Partners not the same?
 
Team 361
Others
Experience & Track Record
Team 361 is the very first PSG pre-approved vendor for Xero. We are also the most experienced Xero platinum partner with more than 12 years of hands-on project implementation record. Check out our google reviews from more than 40 customers with a 4.7 star rating. (Google Review)

Other Xero partners do not have long-term experience in actual implementation and this may result in a longer setup time needed or mistakes during migration of data.

Reviews for these partners are often unavailable.

Partner Status

Out of all existing PSG pre-approved vendors for Xero, Team 361 is the only one awarded with a Xero Platinum status. Our satisfied clientele base has exceeded more than 400 so far.

* A Xero Platinum Partner needs to attain a minimum of 1,000 points, with one customer contributing 3 points on average.

Most of the other Xero partners have just achieved a Silver status, meaning that the number of clients whom they have served is only between 25 to 99.*

* The qualifying points to attaining a Xero Silver Partner status is between 75 ~ 299.

Full 80% Subsidy
Team 361 packages enjoy a full 80% PSG subsidy. This is the maximum funding allowed under PSG, which is something not commonly available.
Most of the other Xero partners are not pre-approved vendors. Even if they are, not all will get the full 80% subsidy, which is why they commonly quoted "up to 80% subsidy". Some partners only offer a subsidy of 50%.
Optimal Objectivity
Representing a diverse suite of multiple software, Team 361 will only recommend the most suitable and value-for-money solution for you. One of our objective recommendations, such as a comparison between MYOB vs Xero vs QBO, has garnered more than 10,000 views on our blog.
Most partners are only familiar with just one type of software solution. This will result in your loss of potential opportunities to get to know other software which may be more useful for you.
Specialization in Software

We have a dedicated and friendly team assigned for each different role:

Consultants 
To thoroughly understand your needs before proposing any solution.

Professional Trainers
To guide you on adopting the overall best practices for your industry, and not just focus only on Xero.

Support Team
To answer your questions and provide technical support promptly and efficiently. A dedicated WhatsApp group will be created for you only to communicate with us.

Accounts & Audit 
To provide value-added services should you require any corporate services to ensure corporate governance and statutory compliance.

Other partners do not have a dedicated team that is especially devoted to Xero implementation, as they are usually bookkeeping or audit firms.

Most of the staff are tasked to take on extra duties whenever there is a new Xero customer on board. This may result in a lack of attention on your project and the professional knowledge may not be up to par.

Money-Back Guarantee
We will offer a full refund if our services are not to your satisfaction within the first week of implementation. No questions asked!
No other partners are offering such a money-back guarantee. We are able to do this because we have 100% confidence in our services
Let's be honest. We are not perfect either. What are our potential downsides?
 
Potential Downside
Upside
Cost
Our implementation cost may not be the lowest in the industry, but we are also not the highest. Most importantly, we believe in offering quality services for your fees.
While we try to remain competitive in pricing, we also want to make sure that you can benefit positively in the long run with our professional services.
Market Positioning
We are definitely not positioned as a low-cost service provider among all the Xero partners.

Similar to food, there will be high-end Michelin star restaurants and budget hawker centres available for consumers.

We pride ourselves as a cosy cafe that offers value-for-money options while providing superior services at the same time.

Training Fee

Our training may be more expensive as compared to the other Xero partners.

However, not all the Xero partners have the professional know-how to train you.

Do you agree that some teachers do not know how to teach well, despite having a great wealth of knowledge?

Well, our trainers have years of experience in conducting training for more than 400 clients. They are well versed and familiar in educating new users.

Same Or Different
Aren't all Xero partners the same? It should be fine as long as the partner can guide me to use Xero.
There are still significant differences, as an experienced partner will be able to use the best teaching methodology to impart the knowledge to you.
Xero Competency Test
To help you to evaluate the right partner, ask the other Xero partner the following questions and see how they fare? 
Difficulty = Low (Basic User)
How to generate a delivery order from Xero?

How to customize different users' email templates when sending an invoice?

How to adjust inventory? Eg. write-off stock.

How can I send attachments (eg. signed delivery order or contracts) together with my sales invoice & purchase order?

I have recorded all stationery purchases throughout the year into both "office supplies" & "printing & stationery", and my auditor asks me to unify the classification, what is the best way to do this in Xero?
Difficulty = Medium (Intermediate User)
Which report do I generate to view my salesperson's monthly sales amount and collection amount?

My suppliers send me paper & pdf invoices, what is the most efficient way to record in Xero?

What is the purpose of Files in Xero? How can I use it?

I am an advertising agency, having around 10 new projects per month, and need to keep track of each project's P&L, how can I do this in Xero?

What is the easiest way to record for my PayNow $0.50 transactions fee (or bank charges) in Xero?
Difficulty = High (Expert user)
I need to send out the rental invoice to my tenant on a monthly basis, can I ask him to pay using a credit card on a recurring basis? The tenant just needs to fill up credit card details once and will be deducted monthly (eg. phone bills).

How do I find out if my staff has manually reconciled or deleted a bank statement line?

What are the differences between using PayPal & Stripe? Which is better and why?

Can I have 2 control accounts ie. Trade Debtors and Non-trade Debtors in Xero? How do I do it in Xero?

I entered the wrong purchased price for the fixed asset and have calculated depreciation for 6 months, how to rectify this?