Get your Xero Accounting Software package with up to 80% Subsidy through Productivity Solutions Grant (PSG) through Singapore's First Pre-Approved Vendor.
Xero package includes 1 year of Xero subscription, migration of data, setup of COA and form, personalized onsite training and 12 months of local technical support.

What is Xero Accounting Software?
Xero is an online accounting software for small businesses that lets you share access to your latest business numbers with your team, accountant and bookkeeper – so everyone is up to speed. It's fast and simple to work together in the cloud, so you can make smart business decisions when it matters most – right now.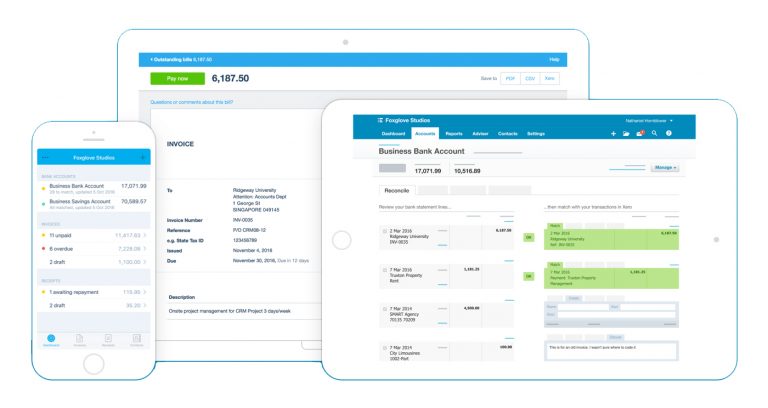 Real-time view of your cash flow
Work while you're on the move with the mobile app.
Log in online anytime, anywhere on your Mac, PC, tablet or phone and see up-to-date financials.
It's small business accounting software that's simple, smart and occasionally magical.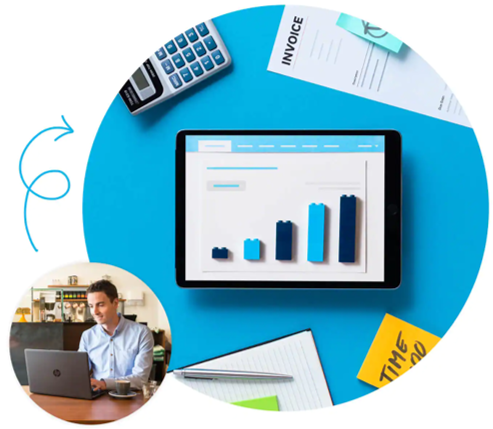 InvoiceNow
With InvoiceNow, you can send invoice digitally between the accounting systems of suppliers and buyers. The invoice will be automatically sent to the accounting system through a secure network, businesses do not need to enter the invoice manually.
Here are the benefits of using InvoiceNow:
1. Time saving
2. Get paid faster
3. Convenient
Here are the steps on how to register and set up InvoiceNow in Xero through the integration partner, Storecove.
Features

Connect your bank accounts to Xero
Xero automatically imports your bank and credit card transactions on a daily basis, saving you time and money.

Automate transaction matching
Create custom rules to match your bank transactions automatically to invoices, bills and purchases recorded in Xero making reconciliation seamless.

Get paid faster for better cash flow
Easily create and send invoices with online payments and invoice reminders for quicker payments.

No more manual data entry
With the OCR feature in Xero, you no longer need to input information manually. The data from the documents (e.g. suppliers' bills) will be extracted and saved into Xero automatically.

Protect your business data
Xero backs up your data and protects it with multiple layers of security including industry-standard data encryption and secure data centres.
.

Xero Project
Its job costing tool that allows you to quote, track, invoice and get paid for jobs all through Xero. And you can see how you could be more profitable. Mobile apps available on iOS and Android too!

Expenses claims
Easily record, claim and manage expenses & receipts online.

Business performance dashboard
Understand how your business is performing and make better decisions.

Multi-currencies
Automatically track gains and losses across multiple currencies.

Reporting
Tailor smart financial reports and budget to suit your business.

Bank reconciliation
Connect to your bank for automatic updates and simple bank reconciliation.

Inventory
Track inventory, control stock, and easily add items into invoices and orders.
Xero can be integrated with more than 1,000 software!
Businesses can integrate their accounting software with others easily now!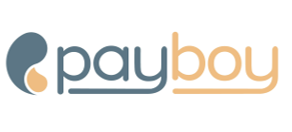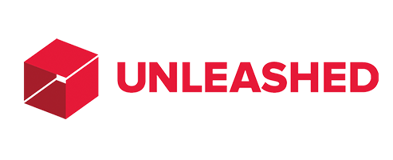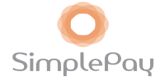 Over 2 million subscribers use Xero!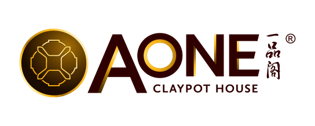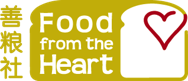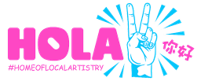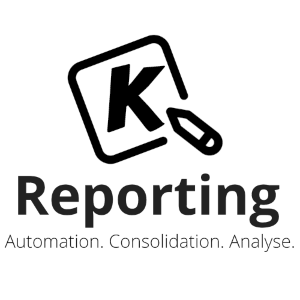 Enjoy FREE K-Reporting when you subscribe Xero with us!
K-Reporting has great features that will help you to manage your reports, track your progress and analyse the data collected from Xero.
Check out K-reporting and other Exclusive Membership Deals !
Why Choose 361 as your Xero Vendor?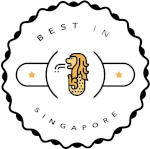 One of the top local providers for Best Accounting Software in Singapore

First Pre-Approved PSG Vendor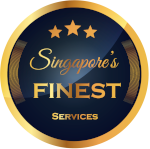 One of the 10 Finest Local Xero Advisors
Click Here to Learn More!
Why are Xero Partners not the same?
1.First PSG Pre-Approved Vendor for Xero 
Being the very first PSG pre-approved vendor for Xero, we have earned more than 12 years of experience with a proven track record. On the other hand, younger Xero partners may not have such extensive hands-on experience and this may potentially lead to longer setup time or even run the risks of errors during data migration.
2. Xero Platinum Partner
We are honoured to be accredited by Xero to be their Platinum Partner. In fact, we are the only existing PSG pre-approved vendor for Xero who is also a Platinum Partner. Being one of their top 2% global partners, we have a large base of satisfied clients, including SMEs and MNCs. Most of the other Xero partners in the market have achieved just a Silver status.
3. Supported with 80% PSG Funding
Our Xero clients, by far, have received full 80% funding support through the Productivity Solutions Grant (PSG). This is the maximum funding allowed under the grant. Not all PSG pre-approved vendors for Xero are able to receive such full funding.
4. Optimal Objectivity
Being a leading industry software aggregator, we are the authorised partner of multiple software solutions. We have full capabilities to offer optimal unbiased recommendations, as well as value-for-money solutions, for you. This gives us the leading edge over other Xero partners, most of whom are only focused on one type of software.
5. Dedicated & Specialised Team
We have a dedicated and friendly team of professional consultants. Each member is specialised in his own unique role in order to serve you better, be it software analysis, training, setup or even support. Many of the other Xero partners are bookkeeping or audit firms, thereby lacking the necessary software knowledge.
6. Money-Back Guarantee
We offer a full refund if our services are not to your satisfaction within the first week of implementation. No questions asked! No other partners are offering such a money-back guarantee. We are able to do this because we have 100% confidence in our services.
Let's be honest. We are not perfect either. What are our potential downsides?
Our implementation cost may not be the lowest in the industry, but we are also not the highest. Most importantly, we believe in offering quality services for your fees. While we try to remain competitive in pricing, we also want to make sure that you can benefit positively in the long run with our professional services.
We are definitely not positioned as a low-cost service provider among all the Xero partners. Similar to food, there will be high-end Michelin star restaurants and budget hawker centres available for consumers. We pride ourselves as a cosy cafe that offers value-for-money options while providing superior services at the same time.
Our training may be more expensive as compared to the other Xero partners. However, not all the Xero partners have the professional know-how to train you. Do you agree that some teachers do not know how to teach well, despite having a great wealth of knowledge? Well, our trainers have years of experience in conducting training for more than 400 clients. They are well versed and familiar in educating new users.
Aren't all Xero partners the same? It should be fine as long as the partner can guide me to use Xero. There are still significant differences, as an experienced partner will be able to use the best teaching methodology to impart the knowledge to you.
Xero Competency Test
To help you to evaluate the right partner, ask the other Xero partner the following questions and see how they fare?
Difficulty = Low (Basic User)
     

How to generate a delivery order from Xero?

     

How to customize different users' email templates when sending an invoice?

     

How to adjust inventory? Eg. write-off stock.

     

How can I send attachments (eg. signed delivery order or contracts) together with my sales invoice & purchase order?

     

I have recorded all stationery purchases throughout the year into both "office supplies" & "printing & stationery", and my auditor asks me to unify the classification, what is the best way to do this in Xero?
Difficulty = Medium (Intermediate User)
     

Which report do I generate to view my salesperson's monthly sales amount and collection amount?

     

My suppliers send me paper & pdf invoices, what is the most efficient way to record in Xero?

     

What is the purpose of Files in Xero? How can I use it?

     

I am an advertising agency, having around 10 new projects per month, and need to keep track of each project's P&L, how can I do this in Xero?

     

What is the easiest way to record for my PayNow $0.50 transactions fee (or bank charges) in Xero?
Difficulty = High (Expert user)
     

I need to send out the rental invoice to my tenant on a monthly basis, can I ask him to pay using a credit card on a recurring basis? The tenant just needs to fill up credit card details once and will be deducted monthly (eg. phone bills).

     

How do I find out if my staff has manually reconciled or deleted a bank statement line?

     

What are the differences between using PayPal & Stripe? Which is better and why?

     

Can I have 2 control accounts ie. Trade Debtors and Non-trade Debtors in Xero? How do I do it in Xero?

     

I entered the wrong purchased price for the fixed asset and have calculated depreciation for 6 months, how to rectify this?
Need help with your PSG Application and Claim process?
Check out our guides here:
Xero Cloud Accounting: Frequently Asked Questions (FAQ)
Have any questions about Xero accounting and our services in Singapore and beyond? You'll find what you need right here.
Welcome to our frequently asked questions page. Here you will find answers to many of the questions you may have regarding our services. Have a read below to learn more about Xero or get in touch with our team today. We are always ready to answer any queries you might have, particularly if you feel they have not been covered below.
Team 361 is an official authorised partner of Xero. Being a leading cloud integrator, we are proud to represent multiple software solutions. We provide unbiased recommendations and will only propose the most appropriate and value-for-money solutions for you. We will also assist you to tap on government funding support wherever possible to reduce your cost.
Interested to arrange a demo & get 80%
subsidy from PSG grant?