Cristofori first opened their doors at Joo Chiat Road in 1980. Their dream was to have the piano as the most popular musical instrument in Singapore. To achieve this, they held close to their belief of making quality musical instruments and to sell them at reasonable prices.
Great potential for classical music within the country
Led by Mr. J.B. Wong, Cristofori worked towards the mission of bringing a piano into every Singaporean household. He saw that classical music had unlimited potential within the country. This started Cristofori's vision of using music to transform Singapore into the Renaissance City of Asia. The company had humble beginnings as they provided piano repairs and services while selling the Cristofori piano P-4C and PC-5C at their first Piano Technological Centre. 
Later in their first year, Cristofori grew their operations by expanding with 10 music schools. Their education approach focuses on three different aspects: learning skills, academic skills and awareness. It encourages students to seek out knowledge, helping cultivate their abstract thinking, concentration and analytical skills as a result.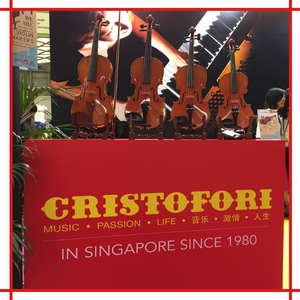 "Over the years, we held firmly to our belief of selling quality musical instruments."
Today, having grown to over 30 branches across the island, Cristofori has become a household name when it comes to music in Singapore. The company has rode many waves throughout their 42 years in business. The most trying period had to be the Covid-19 pandemic, and it was definitely one of the most demanding challenges that they had faced during their years of operation. With the lockdown, their physical retail stores had to be closed totally. This had a huge impact on their retail revenue. Even after the restrictions were gradually lifted, the newly implemented safe management measures also dampened operations.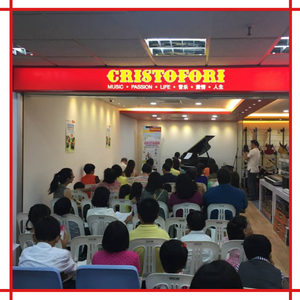 Roadblocks along the way
1. Unsynchronized Information
Prior to the pandemic, each Cristofori store used a different Point-of-Sale (POS) system. This meant that sales data from their stores had to be sent back to the main branch for processing. Information on any new orders had to be sent to the main centre first before they could be fulfilled. This back-and-forth process took up a lot of time and resulted in unnecessary delays when completing customer orders.
2. Lack of E-Commerce Platform
All sales were done physically as there wasn't any platform to support online sales. The webpage which Cristofori had simply provided brief descriptions about their products. Customers had to visit the physical stores just to find out more detailed information. During the pandemic, people were urged to stay indoors. Hence Cristofori's sales were severely impacted since there were no other alternative sales channels.
3. Tedious Accounting Processes
With over 30 outlets, Cristofori had to spend a lot of time monitoring their day-to-day sales. At the end of each day, the sales data from every outlet had to be sent to their main branch for calculations and discrepancy checks. As a result, a huge amount of time was needed for the employees to work on the end-of-day accounting. It had to take them about 3 to 5 working days just to reconcile their accounts manually.
4. Poor Customer Communication
Cristofori lacked proper communication channels with its customers from the music schools. Many times, the enquiries from its students and parents went unanswered and responses were often delayed. There was no effective system to track all these communications. Class schedules or notifications would sometimes be sent out late or not at all. As a result, miscommunications arose and it led to unhappiness among the stakeholders.
Overcoming the odds through Digitalisation
1. Vend – Point-of-Sale and Retail Management Solution
Cristofori adopted Vend as the universal POS system across all their stores. By doing so, the sales information is now transferred to their main branch instantaneously, without having to wait till the end of day. Customer orders can now be received and processed at a much shorter time, improving overall efficiency and raising customer satisfaction.
2. Shopify – E-Commerce Platform
With Shopify, Cristofori was able to build an e-commerce platform for their business. This opened up a whole new sales channel aside from their brick-and-mortar outlets, and led to a jump in revenues earned.
Customers no longer need to visit the outlets in order to make a purchase. Their wide selection of instruments, music books and services can now be bought conveniently through the online e-commerce platform. This brought much ease to their many customers. 
3. Unleashed – Inventory Management Software
Unleashed was introduced to help manage the inventory stocks for musical instruments and piano parts for repair services. The software was set up to integrate with the Shopify e-commerce platform in order to reflect product availability online in real-time.This meant that customers can now easily check if their desired product is available without having to make a physical trip down to an outlet or even call up a store to enquire.
4. Xero – Accounting Software
Xero features automated bank reconciliation which helped to cut down the time needed to settle Cristofori's accounts. From a 3 to 5 day process, the accounts are now easily done within a single day. As a result, staff can have more time set aside to focus on other higher priority tasks.
5.  Bitrix – Customer Relationship Management Platform
After adopting Bitrix, managing enquiries became a total breeze. When a customer calls in with an enquiry, this information will be automatically stored inside Bitrix, and staff can respond more easily and quickly. The number of leads can be accurately managed. In addition, Cristofori can use Bitrix to communicate class information to parents and students via email campaigns.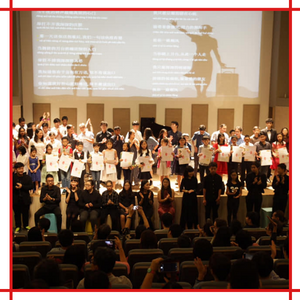 Hitting the High Notes
After 40 years of enrichment through music, Cristofori has become the largest piano company and music school in Singapore. With over 60,000 satisfied piano customers and over a million students being taught to play music, Cristofori continues to work towards the dream that they had from their humble beginnings.
Numerous awards and accolades have been bagged throughout the years. Cristfori received the Singapore Heartlands Enterprise Award in 2014 for being a beacon of inspiration to fellow heartland Enterprises. In 2015, they also won the Influential Brands Top Brand Winner as a recognition for their level of quality, service, knowledge and experience in the industry. They have also achieved the Singapore Prestige Brand Award – Heritage Brand as a company that has deep heritage and identity over its long history.
Cristofori is now emerging as one of the new names within the international music scene. Equipped with their new digital solutions, they are now empowered with the right ammunition for a global expansion. Anyone who wishes to enrich their lives with music can visit Cristofori's website and social media sites – Instagram and Facebook.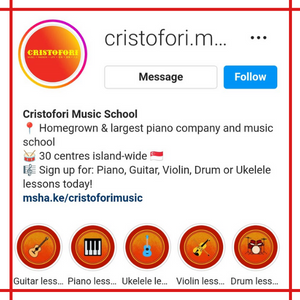 Digitalise Your Business Today!
Are you interested in enhancing your operations through digital solutions as well? Get unbiased software recommendations with Team 361. Contact us at 6515 7906 or email us at enquiry@361dc.com for any enquiries.