To prepare businesses for the upcoming GST Hike in 2024, we launched our GST Updates, Grants & Productivity Gameplan 2024 on 20 Oct at the Lifelong Learning Institute.
With close to 200 participants, our event was a resounding success as attendees gained invaluable insights into how they could confidently manage the forthcoming GST hike while ensuring strict compliance with IRAS regulations at the same time. The seminar also deep-dived into how grants and automated solutions could drive business productivity and streamline operations to get greater efficiency.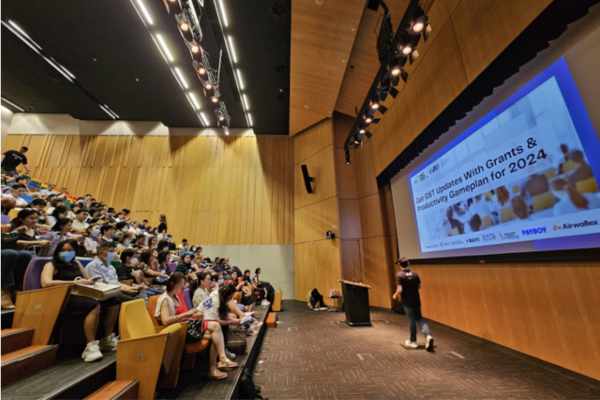 The seminar commenced with an introduction to the Goods and Services Tax (GST) Act. This initial segment provided our attendees with clear guidance on the steps towards preparing for the upcoming GST increase from 8% to 9% next year.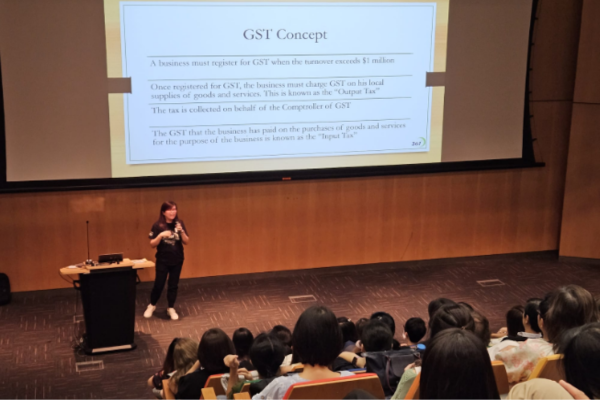 Our chief trainer, Su Hui, addressed the practical aspects of the GST hike. She shared various scenarios on when businesses should implement the increase into their invoices. There were attractive prizes dished out to lucky winners of our fun quizzes too!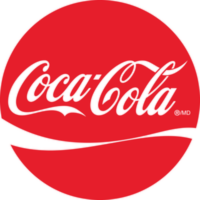 Felicia from the Workforce Advancement Federation (WAF), also spoke about the Career Conversion Programme (CCP) where businesses could empower their workforce and unlock up to 90% salary support for their local staff.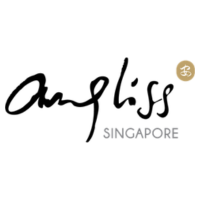 Participants also had the opportunity to explore different booths to learn more about the digital solutions provided during the refreshments break.

We are extremely grateful to our esteemed partners as well, from the Ministry of Manpower, Singapore Business Federation, Payboy, AirWallex, NLADFK and the Workforce Advancement Federation. They have shown us great support by sharing further insights on how each respective agency could help to facilitate the digital transformation of our clients' businesses.

We are incredibly thankful to everyone who has supported this event of ours, in one way or another. It was indeed an awesome and meaningful celebration of our 15th year anniversary!
Here's what some of the attendees said about the event:

"The seminar was a highly informative and well-organized event. It provided valuable insights into the changing landscape of GST, grants, and productivity initiatives. I left with a better understanding of the subject matter and a network of contacts in the field. I would highly recommend this seminar to anyone looking to stay updated and informed in the world of finance and taxation." – Awen Lee
"Excellent workshop that filled with lots of great info on GST 9%, Various Grants. Friendly and helpful staff.  Most important is the great boss Ken who organising this GST event to enhance our knowledge further.  Thanks for all the efforts and deeply appreciated 🙏" – Cher Chiew Hiang
Due to overwhelming feedback, we will be conducting another session on the GST hike online on 17th November. Do click on the button below to register for the webinar!
Register here!