Wallex
Overseas Payment and
Cash Management Solution
Experience faster speed and attractive rates for cross-border payments
REGISTER NOW
What is Wallex?
Wallex is a modern overseas payment and cash management solution for businesses. You can make international payments, convert FX and even collect with local currencies. In addition, you can also choose to convert and hold balances in multiple currencies, so as to properly plan, manage and hedge all your currency needs within a single platform.
Easier Process, Cheaper Fees & Quicker Transactions
In most situations, you will have to incur high processing fees and expensive FX margins when you make cross-border payments. The process is also lengthy and troublesome. With Wallex, not only can you have the special access to rates that slash your transaction costs by as much as 70%, you are also able to make global payments in a matter of minutes!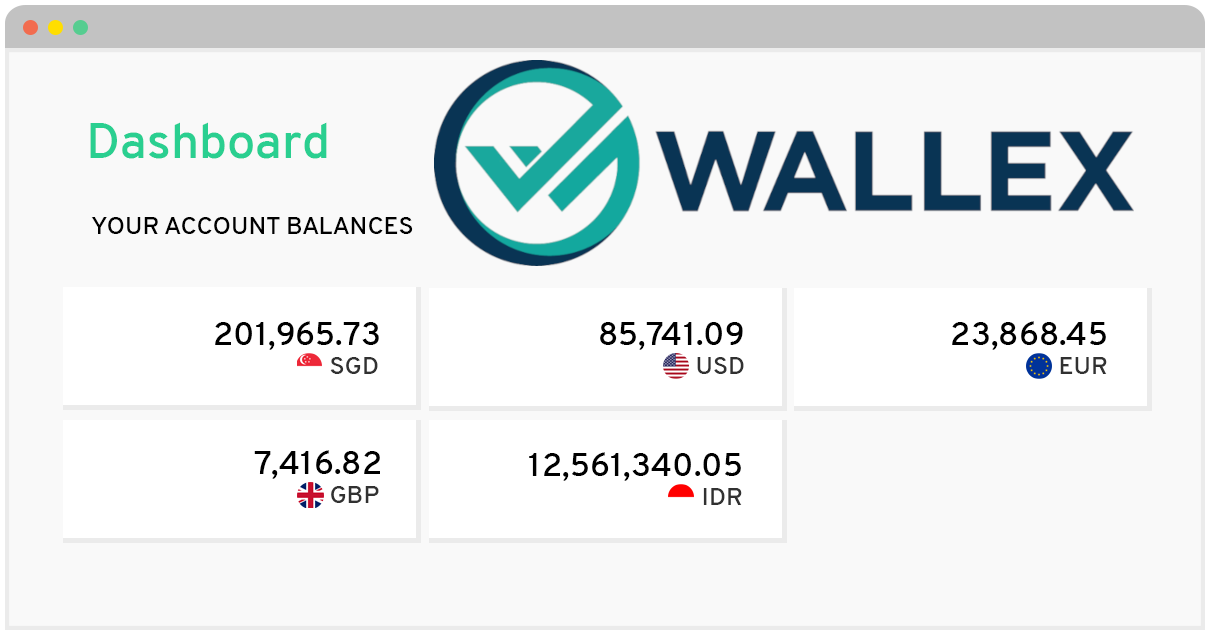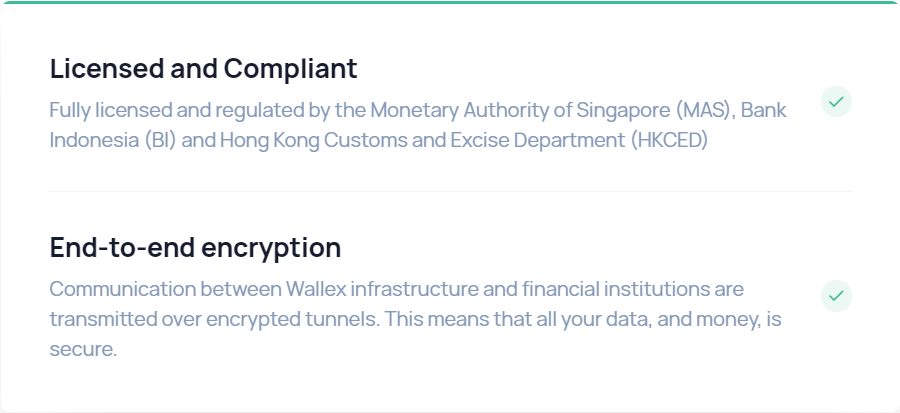 Fully Regulated and Secure
Wallex works closely with financial regulators and maintains the highest security standards to protect your data – and your organisation.
Wallex is fully licensed and regulated by the Monetary Authority of Singapore (MAS), Bank Indonesia (BI) and Hong Kong Customs and Excise Department (HKCED).
The communication between Wallex infrastructure and financial institutions are transmitted over encrypted tunnels. This means that all your data, and money, is securely kept within Wallex.

Pay
Enjoy low-cost and fast cross-border payments to over 180 countries around the world.
Best FX Rates, Cheaper than Banks
Gain access to mid-market FX rates and transparent fees for payments anywhere. Receive these significant savings and you will never use banks for cross-border payments again.
Direct and Faster than Wire Transfers
Connect directly to our network of payment partners around the world and skip the middlemen! You will avoid extra fees and process payments quicker. 
Make international payments with any of our 46 supported currencies in 180 countries from our platform. Pay invoices easily in currencies using USD, SGD, GBP, AUD, EUR, MYR, JPY, PHP and more!
All our business account customers will be assigned a dedicated local account manager, ready to support any single query through mobile or Whatsapp.

Collect
You will be able to get bank details with different local currencies, be it the US, UK, Europe, Singapore or Indonesia. Your business can operate as if you have a local currency bank account.

Better rates for your business
Receive funds in multiple currencies such as USD, GBP, EUR, IDR with no additional charges. With an international receiving account, you get to reduce FX loss by avoiding unfavourable rates and fees imposed by banks.
Better rates for your customers
Provide your clients with an easier, cheaper and faster way to pay you with their preferred currency and local transfer methods so as to prevent any charges on international transfers.
Get USD, EUR, GBP account details in your company name for free instead of opening local bank accounts overseas. Save time and money.
Save on working capital needs with no minimum balance requirements for accounts and bank charges. Centralise all collections in your Wallex wallet and gain from clear reconciliations and reporting.


Multi-Currency Wallet
Hold and manage multiple currencies. Connect your wallet seamlessly to global payments, FX and virtual accounts for an easy international payment solution.

Manage your funds between balances and currencies using your online wallet within seconds.
Support at your fingertips
Our multilingual customer support team is always ready to assist you with every transaction you make.

Conversions
Convert FX to 47 currencies at near mid-market rates. It's absolutely free to get started!
Simple & Powerful Conversions
Easily manage and convert the currencies you need for your global payments or retain funds to hedge against volatile FX markets.
Competitive exchange rates
With Wallex, you get access to mid-market competitive rates. Save even more when you trade in larger volumes!
Wallex's solutions has been used by over 20,000 users!

Wallex Frequently Asked Questions (FAQ)
Team 361 is an official authorised partner of Wallex. Being a leading cloud integrator, we are proud to represent multiple software solutions. We provide unbiased recommendations and will only propose the most appropriate and value-for-money solutions for you, including the information on relevant grant support available.
Interested in starting a Wallex account?