Swingvy – HR Management & Payroll
A people-operations platform for payroll, benefits, claims, leaves, and more
FREE DEMO
Get Swingvy People-Operations Platform with up to 50% Subsidy through Productivity Solutions Grant (PSG)
The all-in-one HR Swingvy package includes 1 year of software subscription for all core HR modules, leave, claims, performance appraisal, payroll as well as benefits and training
What is Swingvy?
Swingvy is a modern all-in-one HR, payroll, and benefits platform for your company and employees. By seamlessly connecting all HR information, Swingvy automates administrative work such as employee onboarding, leave application, payroll and benefits with ease.
Swingvy comes with a mobile app too, which means you can easily access anything that needs to be checked and approved on the go!
Holistic Employee Management
Connect and sync all employee and HR information across products and automate on/off-boarding processes with ease. Set your team up for success with goals, progress tracking, and reviews.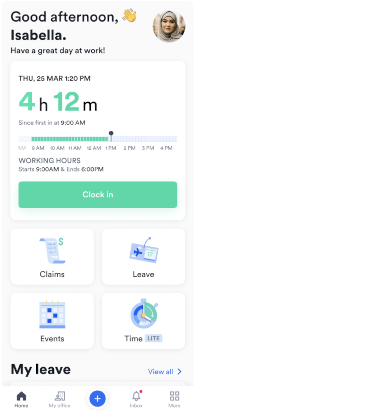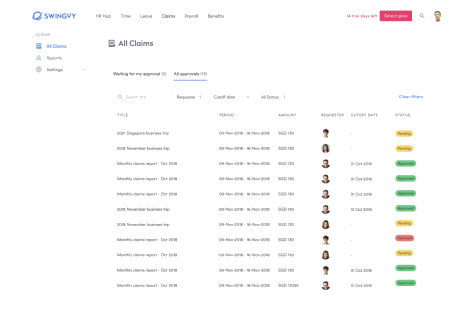 Claims made easy and accurate
Save time on the expense claims process. Say goodbye to receipts. Snap a photo and upload it into reports to digitalize claims. It's that easy.

Swingvy HR Hub
Keep all HR information you need within reach
Employee Profiles & Directory
Customise employee profiles individually in the HRMS.
Company News Stream
Keep the whole team in the loop by sharing public company announcements within the platform.
Company Calendar
Never miss key events with a shared company calendar that links with Google, Outlook, & iCal.
HR Reports
Harness your HR data with real-time and customisable reports.
Employee Onboarding & Offboarding
Swingvy HRMS reduces paperwork by automating the whole process.


Swingvy Leave
Streamline your leave processes
Integrated Leave Requests
Leave requests to sync seamlessly with the HR hub and payroll.
Unified Calendar
See who's on leave with a shared company calendar.
Approval Workflow
Enable multi-level approval for each office.
Customisable Leave Entitlements
Provide different days for different groups of employees.
Real-time reporting
Generate reports on the progress of individual and team leave data.
Easy pro-ration
Automatically pro-rate leaves entitlements for employees according to policies.
Carry-forward leave
Set carry-forward leave limits and transfer leave automatically.

Swingvy Payroll
Compliant payroll software to simplify payment processes
Detailed Payroll Overview
View detailed payroll calculations during the first step of payroll processing.
On-The-Spot Updates
Expand individual employee payroll lines and edit pay details directly.
Automated Tax & Filing
Swingvy generates end-of-year forms, calculating and filing tax for you.
Statutory Payment Management
Auto-calculate and pay CPF and other statutory contributions with reduced errors.
Make Last-Minute Amends
Mistakenly confirmed a payroll? Turn back time with revert payroll.
Access on Demand
Employees can access past payslips and payment details at any time.


Swingvy Claims
Expense Claim Management Made Easy
Custom Claims Policies
Easy setup of different claim types and policies specific to your business.
Design Your Approval Workflow
Create a multi-level approval workflow to suit your business policy.
Multi-Currency Support
Key in the payment currency and Swingvy will do the math for you.
Employee Self-Service
Employees can view and manage expenses and reimbursements on their dashboard.
Approve On-The-Go
Get notified with expense submissions and approve from multiple channels.
Expense Claims Reports
Auto-generate expense reports for easy tracking and auditing.

Swingvy Time
Simple time & attendance tracking
Easy Clock-in/Out
Employees can clock in and clock out with automatic updates.
On-the-go Tracking
Choose to track your teams and see whether they are working remotely or at the office.
Geofence location
Set a geofence location boundary for your employees to clock in and clock out.
Custom Work Schedule
Easy customisation by work hours, overtime, department, or employee to fit your team's needs.
Real-time Reporting
Run real-time reports to see teamwork hours, overtime information, and check attendance records.
Payroll Integration
Automatically integrates payroll with real-time calculations for workdays, overtime, and local public holidays.

Swingvy Mobile App
HR Management in your pocket
Apply For Leave
View leave balance and submit leave application with a few taps.
Submit Expense Claims
Snap a photo of receipts directly from the phone to simplify the claims process.
Application Updates
Employees will be notified of the status of leave and claims submission updates.
Manage Leave
Approve and decline leave requests and see who's away each day.
Shared Company Calendar
Keep up-to-date with upcoming events that are shared across the company.
Company Directory
Find and contact team members in the app contact list.
There's a reason why Swingvy has reached over
9,000 clients and 200,000 users!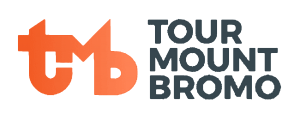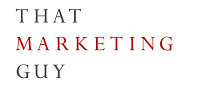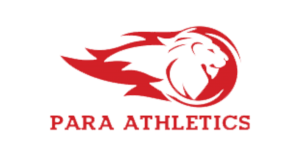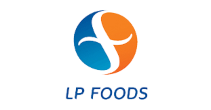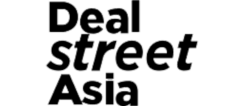 Swingvy Frequently Asked Questions (FAQ)
Team 361 is an official authorised partner of Swingvy. Being a leading cloud integrator, we are proud to represent multiple software solutions. We provide unbiased recommendations and will only propose the most appropriate and value-for-money solutions for you, including the information on relevant grant support available.
Interested to arrange a demo?