What is Simplepay?
SimplePay is a software company that provides a cloud-based payroll solution aimed at having accurate compliant processes and making payroll as stress-free as possible.
Payroll Simplified
Statutory deductions and contributions are calculated automatically (CPF, CDAC, ECF, SINDA, MBMF, SDL). SimplePay will ask you the right questions to ensure that payroll deductions are done in the correct manner.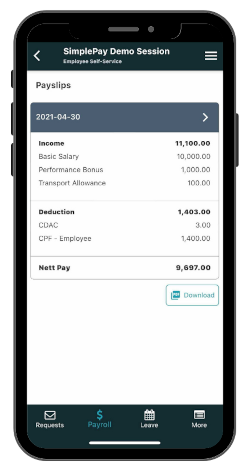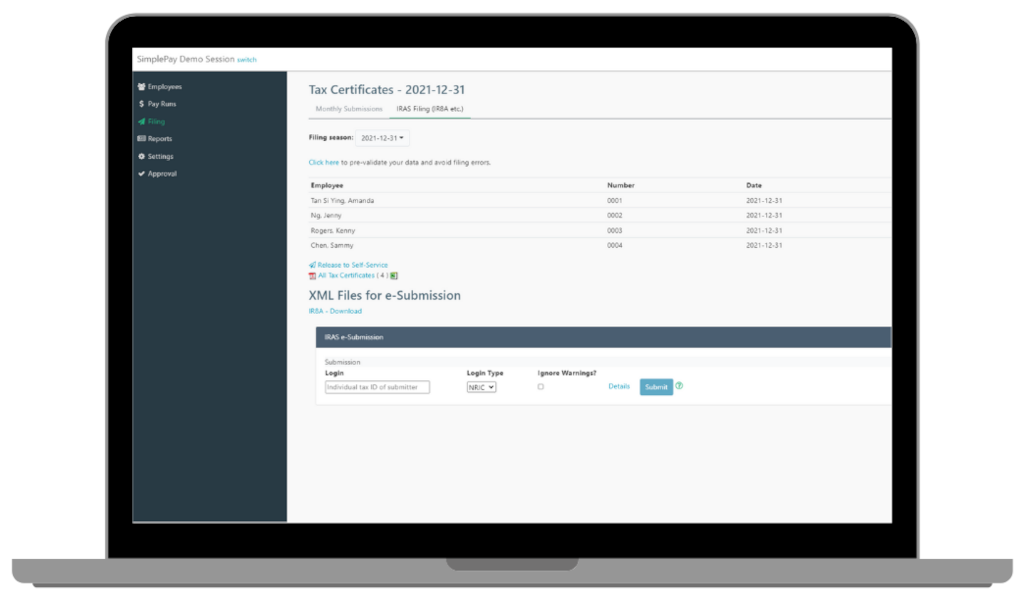 Compliant At All Times
The system will remind you when your submissions are due to prevent late submissions. You'll always be 100% compliant with submissions done electronically.

COMPREHENSIVE EMPLOYEE SET UP
Automate statutory calculations
Designate employees to their own pay points
Customise different pay frequencies, monthly, weekly and fortnightly employees are supported
Add custom employee fields

LEAVE MANAGEMENT
Automatically pro-rate leave balances
Automate calculations of unpaid leave
Access to employee's leave balances in a glance using the Leave Activity page
Flexibility in adding custom leave types
Manage leave requests and approvals via our self-service portal
Set up an array of leave approval groups

SUBMISSIONS
Direct e-submission of IR8A
Automatically generates each month's CPF return

ADDITIONAL FEATURES
A detailed employee activity log
No need to perform system back-ups as your information is stored in the cloud
100% compliant and up-to-date with Singapore labour laws
Seamless Xero and Quickbooks integration
Generates the necessary Giro file necessary for bulk salary payments
Self-service portal for direct access to payslips, tax certificates and leave balances which is also accessible via our Mobile App which supports both (Android and iOS interfaces)
Find out why SimplePay has more than 16,0000 satisfied clients in Singapore, South Africa, Ireland and Hong Kong by requesting for a demo today!
SimplePay Frequently Asked Questions (FAQ)

Team 361 is an official authorised partner of Simplepay. Being a leading cloud integrator, we are proud to represent multiple software solutions. We provide unbiased recommendations and will only propose the most appropriate and value-for-money solutions for you, including the information on relevant grant support available.
Interested to arrange a demo?