What is Sign.net?
Sign.net is an easy-to-use digital signature solution designed to make digital signing safe and affordable for everyone by utilizing blockchain technology and identity verification.
Identity Verification 
Created in Singapore, Sign.net is the first ever digital signing software solution to be integrated with MyInfo. This allows users to verify their account with SingPass which increases data security. Sign.net also verifies government-issued identification documents from more than 190 nations globally.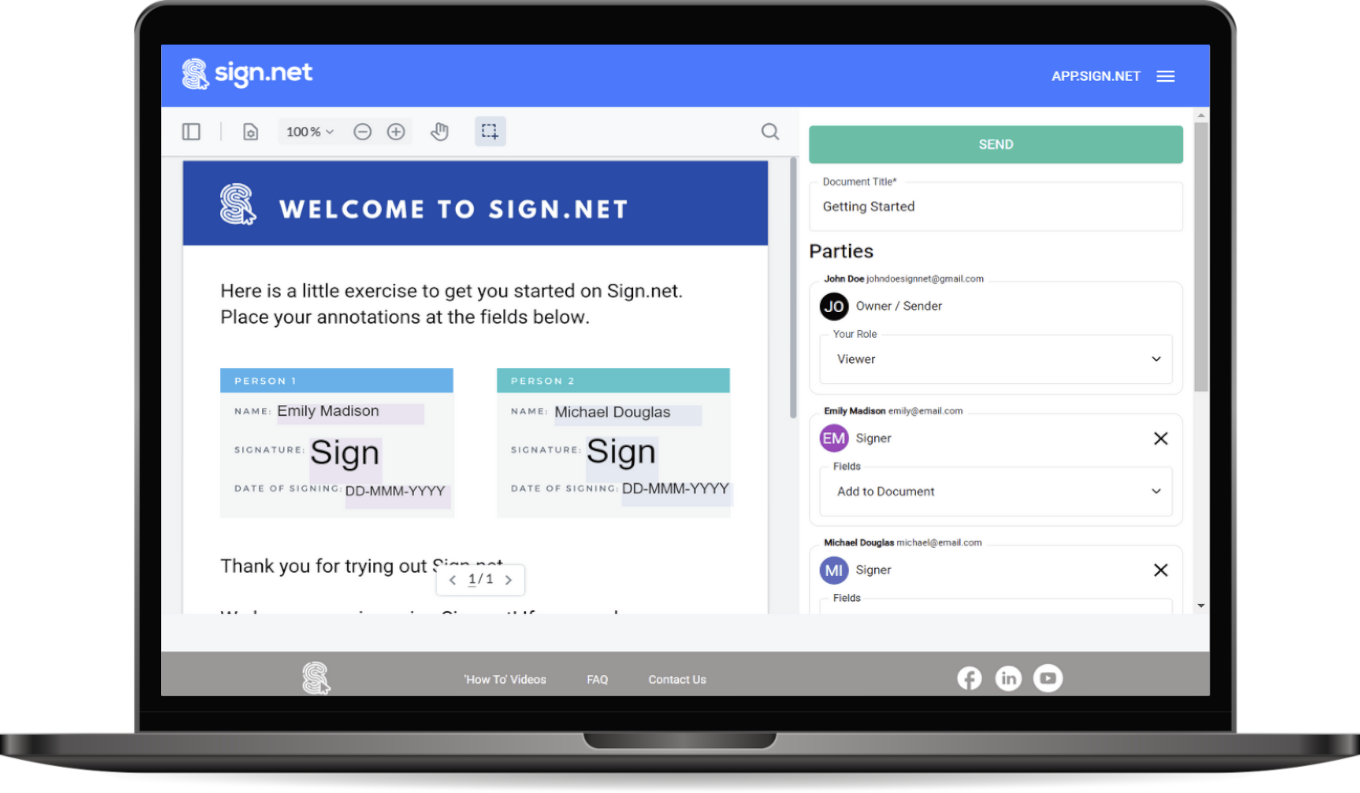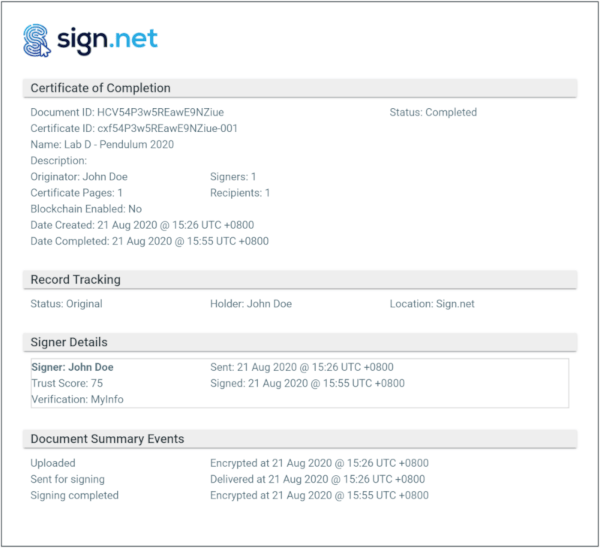 An audit trail is attached to all documents
Whenever a document is created, a fingerprint of the document is automatically generated.
Each signer's identity, timestamp of activities performed by each signer, signing order and signing location are all recorded.
Certificate of Completion
When all parties have completed signing the document, a Certificate of Completion will be generated.

Cloud Storage
The cloud platform from Sign.net provides powerful cybersecurity protection which is definitely preferred to having documents being stored in your own PCs. You will be able to see who has viewed your files, when they were accessed, and if any copies were being downloaded.

Document Encryption
When a document is created, a digital fingerprint of the document will be generated and updated accordingly. To ensure that your documents are safe, all files on the platform are secured using the military-grade AES-256 encryption standard.

Document Tamper-Proofing
You may also choose to add an additional security layer to your important documents by storing a secure representation on the blockchain. This can be used to verify the document's validity in the future.

Data Privacy
Your data privacy is our priority. All your contracts will only be accessible by you and your intended receivers. You can also choose to include passwords, limit downloads, and set a time limit for your documents. Sign with confidence!

Reward Points
Earn rewards points when you use Sign.net! You will be able to use reward points to redeem services and incentivise recipients. Look out for more rewards that are coming your way soon!

Support
Sign.net provides assistance during business hours through several channels – email, live chat and mobile phone.
Sign.Net Frequently Asked Questions (FAQ)
Team 361 is an official authorised partner of Sign.net. Being a leading cloud integrator, we are proud to represent multiple software solutions. We provide unbiased recommendations and will only propose the most appropriate and value-for-money solutions for you. We will also assist you to tap on government funding support wherever possible to reduce your cost.
Interested to get a demo?