Get Qashier POS package with up to 50% Subsidy through
Productivity Solutions Grant (PSG)

Qashier POS package includes 1 year of subscription, software setup, onsite installation, personalized onsite training, 12 months of local technical support and Qashier Smart Terminal
What is Qashier POS?
Qashier is an all-in-one device that helps retailers and F&B businesses to manage their payments and operations. Boasting a sleek outlook, the device is designed to be one of the easiest POS to use, with setting up and starting sales taking just a few minutes. It is the one terminal to meet all your needs, from taking orders and accepting payments, to printing receipts.

Competitive Pricing
All-in-one package from only $1/day, with hardware, software, setup, training and support provided. 

Compact Hardware
A single device that come with dual screens, acting as a receipt printer, barcode scanner and card reader.

Multiple Payment Types
Qashier accepts all forms of payments, such as credit cards, Apple Pay and even QR code payments.

Cloud-Based POS
Ability to access your data anywhere, anytime. You can now run your store remotely!

Sleek and Compact Design
The compact terminal allows for easy portability, and comes with a long battery life.

Ease of Use 
Setting up and training staff on Qashier's usage can be done in just 10 minutes.
Qashier Pricing Plan
Easy self-sign-up
Lifetime software updates
Cloud-based software
All Lite features
Unlimited transactions
Advanced discounts & promotions
Employee management
All Essential features
Unlimited products
Customer relationship management
Sales transactions and records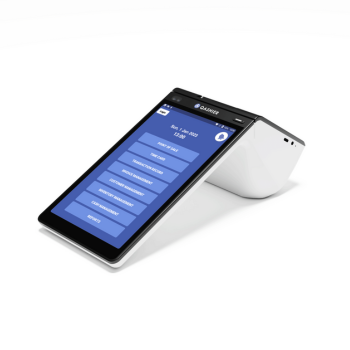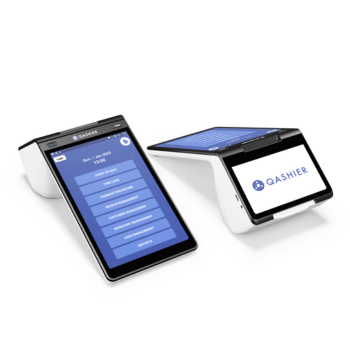 Qashier POS: Frequently Asked Questions (FAQ)
Qashier comes with a specialised POS software just for retail, F&B and services businesses. It is designed to be the easiest one-in-all POS. You can track your sales and take orders with the same device. In addition, it is also compatible with latest payment features such as PayWave and QR code payments. You can even take food delivery orders with it.
Definitely! Qashier uses a cloud-based system which allows you to access your data anywhere, anytime, from any device. Such convenience is totally unlike the traditional POS where you can only access your data through the same physical device at the same location. Qashier's terminal is compact and portable, while traditional POS is heavy and bulky too. Finally, Qashier's ease of use allows training to be completed in only 10 minutes.
Qashier PSG package includes hardware, software, setup, training as well as support.
Interested to arrange a demo & get 50%
subsidy from PSG grant?