What is MechanicDesk?
MechanicDesk is an automotive workshop/service management software that is built for all kinds of service centres, such as vehicle service centre, marine service centre, heavy machinery and equipment, bicycle service centre, types and spare parts shop etc.
MechanicDesk helps to manage all aspects of the business including booking and management, customer relation management, vehicle service management, sales and purchasing, inventory management and more.
Comprehensive
and intuitive
Bookings, job management, inventory management, customised invoices, vehicle history and service reminders via email or SMS are just a few of the amazing features that MechanicDesk has to offer.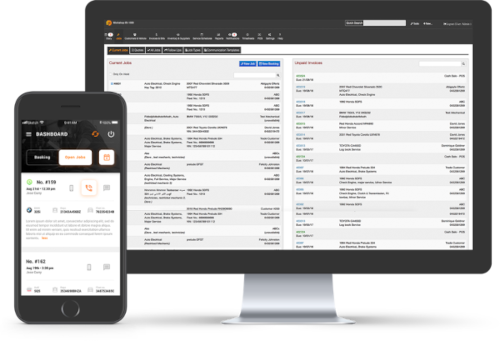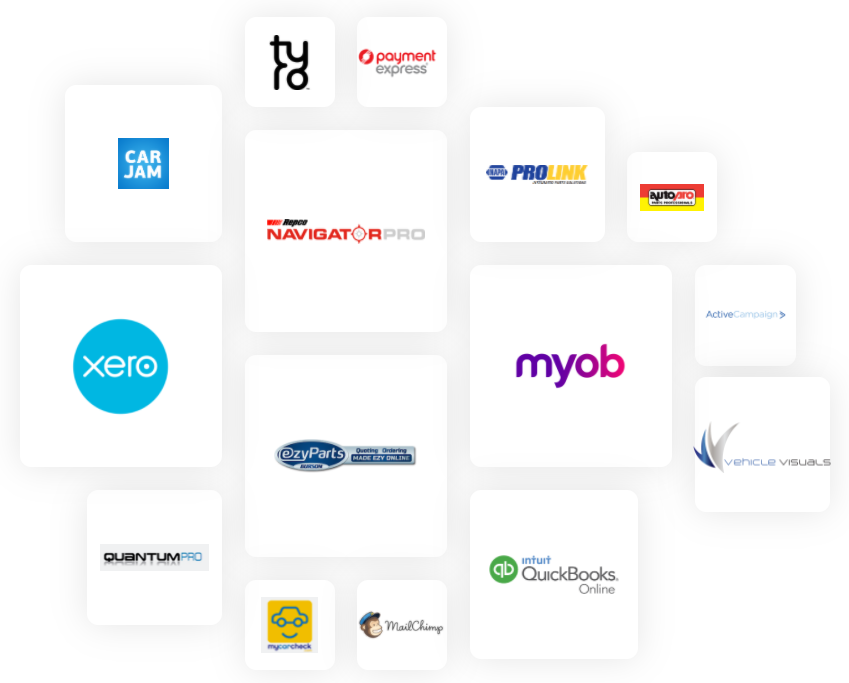 Powerful Integrations with Accounting Software
With robust integrations with other solutions such as Xero Accounting and QuickBooks Online, you can now supercharge your MechanicDesk utilisation! All your stock, customers, suppliers, invoices, bills, payments, and credit notes will be automatically transferred between MechanicDesk and your accounting software, thereby ensuring that all the financial reports are updated in real-time.

Booking Diary
With only a few clicks, you may create, reschedule, or even delete reservations. Bookings may easily be converted to jobs, saving your time on all the paperwork!
Create and reschedule appointments with an easy-to-use drag-and-drop diary.

Customers will receive automatic booking reminders through email or SMS the day before their appointment.

Diary entries are color-coded to help you easily assess the status of any job.

Diary entries are automatically updated, ensuring that you always have the most up-to-date view of your workshop schedule.

Job Management
The core of MechanicDesk is that it keeps you updated on every job in your shop at a glance. Manage jobs with your coworkers in real time from a centralised point.
Each job stores all necessary details, such as invoices, bills, purchase orders, job cards in a tidy manner.

Jobs allow you to connect to many other MechanicDesk tools and utilities, such as service scheduling, productivity tracking and more.

The Job Type functionality in MechanicDesk allows you to save frequently performed jobs and services as templates which significantly reduces the time spent preparing job cards and invoices.

Invoicing/Quoting
Issuing Invoices and quotations can be done quickly with pre-configured invoice items. Simply convert the invoices and quotations to jobs and bookings.
Quick and easy invoicing/quoting is possible with preconfigured invoice items. Directly convert your invoices/quotes to jobs or bookings.

Save frequently used invoice elements for future invoices and quotes.

Invoices and quotations can be printed or sent to clients via email easily.

All invoice templates are entirely customizable, making them look the way you prefer.

Customer and Vehicle Management
MechanicDesk's intelligent auto-suggest and auto-complete features make it simple to save your workshop's customers' information for usage throughout the solution.
You will no longer need to fumble around for phone numbers or email addresses.

MechanicDesk supports an unlimited number of customer entries.

Complete customer and vehicle histories are also stored, as well as the ability to upload images and documents against any customer's or vehicle's data.

MechanicDesk allows you to email statements directly to your customers.

Stock Control
Always be updated with what your workshop has in stock. Your workshop will never run out of stock again when you use MechanicDesk's stock alert and stock reordering tools.
Straightforward stock level control.

Using multiple searchable fields, you can quickly locate any stock item.

Each stock item has its own detailed history of sales and purchases.

Most barcode scanners and label printers are supported by MechanicDesk.

Supplier Management
Get a full visibility of your suppliers' information at your fingertips.
MechanicDesk supports an unlimited number of supplier entries.

Complete supplier purchase histories are included, as well as the option to add photos and documents to any supplier.

Send statements or communicate with your suppliers via email or SMS directly from MechanicDesk.

Raise purchase orders and send them via email to your suppliers in under a minute.

Service Scheduling
Determine which vehicles are due or overdue for service with ease and send reminders to your customers via both email and SMS.
MechanicDesk also handles service and registration scheduling.

You have complete control over when, how and what is being communicated to your consumers in service reminders.

Point of Sales
Manage quick payments on the spot using MechanicDesk's Point-of-Sales function.
Most barcode scanners and label printers in the market can be supported.

Track your workshop sources of business directly within the Point-of-Sales function.
There's a reason why MechanicDesk has reached
more than 2000 clients & 8000 users!

MechanicDesk Frequently Asked Questions (FAQ)
Team 361 is an official authorised partner of MechanicDesk. Being a leading cloud integrator, we are proud to represent multiple software solutions. We provide unbiased recommendations and will only propose the most appropriate and value-for-money solutions for you, including the information on relevant grant support available.
Interested to arrange a demo?