K-Shield IT Support
Fully managed by Team 361
Recognising the importance of cyber security, many organisations have invested significant efforts to ensure that their data and information remains safe and secure. To support this cause, Team 361 introduced K-Shield, which is a packaged remote IT support service that helps to protect businesses against cyber threats.
Just like coming down with a bad headache when you are at home, and you are simply not able to pay a visit to the Doctor. Won't it be a lifesaver if your Doctor comes online and offers you immediate medical advice to relieve your discomfort quickly?
This is what K-Shield can do for you, if your computers fall sick.
K-Shield offers 4 key functionalities within 1 single package to support all your cyber security needs.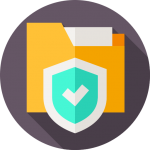 Once your computer has been infected with a virus, your data gets lost and the whole system crashes.
Besides compromising data confidentiality, computer viruses may also result in potential data being taken hostage by the hackers.
Having an anti-virus will eradicate these problems as your computers will be scanned daily to detect unwanted intrusion and protect data integrity.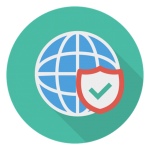 Web protection is critical to prevent scams, malwares, phishing and cybercrime. It creates a security network to block hackers from controlling your office internet.
With the appropriate restrictions in place, you may now restrict employees from accessing porn sites or browsing Facebook during office hours.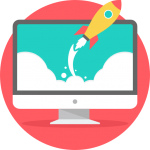 Regular scans and health checks for your computers help to optimise their operational efficiency. Does your computer take a whole 5 minutes to boot up?
Running of periodic updates and patches also ensures that your system is being kept updated.
This will minimise the risk of errors and computer crashes, and it helps to make your computer work faster!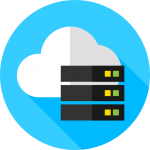 Backup and Recovery Manager
Internal efforts to prevent data loss is just as important. Daily backups must be done to ensure the ease of having a full and complete recovery in the event of data losses.
Imagine being attacked with "wannacry" ransomware and suddenly all your data is gone. Won't you feel a huge sense of relief when there is a backup copy for you to fall back on? Auto-backup does save lives. (Or save your job!)
Why use K-Shield on Demand (Pay as you Use)?
In the event of any unforeseen system emergencies, K-Shield on Demand can provide an immediate line of remote support to businesses. Such remote IT support service on demand is a quick form of relief to manage sudden incidences. The K-Shield Helpdesk boasts of a short response time that simply allows the users to click-and-go, solving almost 90% of common IT issues.
For proactive businesses that are looking to maintain their cyber security, K-Shield on Demand is also able to schedule regular support and checks. Performing such services remotely offers the flexibility for end users to connect to their devices anywhere, anytime. 
K-Shield will be fully administered and managed by Team 361 to relieve your worries on IT security. Starting as low as $12.99 per device per month, you will be able to enjoy a complete suite of cyber protection through K-Shield. 
Please see below for more details on the package breakdown for K-Shield.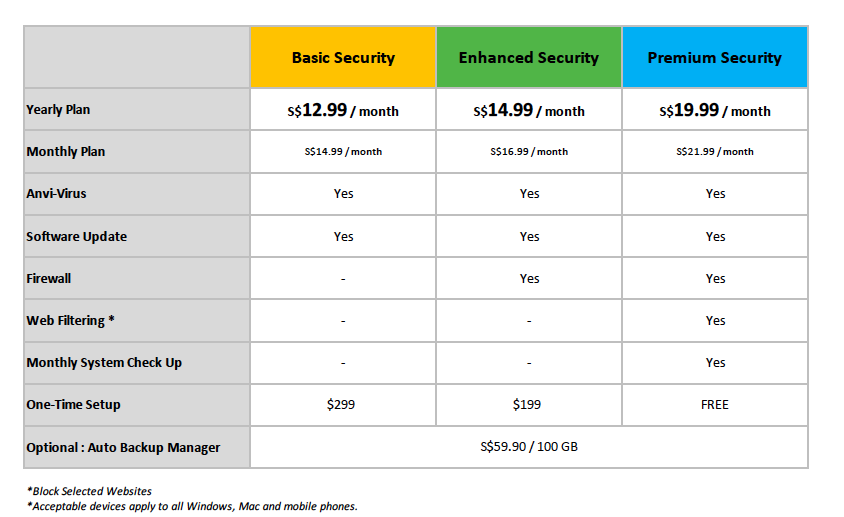 K-Shield: Frequently Asked Questions (FAQ)
Want to know more about K-Shield?