GetDocPlus Member Services
Cost Effective Healthcare at a Glance
Exclusively for
361's Clients
FREE 1st Year Membership! 
To welcome our new valued clients, this is part of a special suite of deals that we have specially prepared for them. You may also find out more on other welcome freebies here!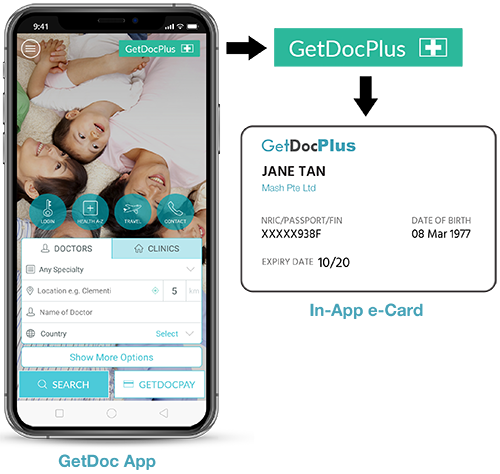 $8 per employee for 2nd year OR $12 per employee for 2nd & 3rd year combined!
Discounted and affordable healthcare services at selected panel of clinics
What is GetDocPlus?
A healthcare benefit where you pay corporate rates at panel clinics for consultation or treatment. Whether it's a GP or specialist consultation, a dental or health screening session, you pay members-only corporate rates for the listed services. We make sure that your healthcare needs are well taken care of. Sign up to be a member at $12 per year.

GetDocPlus range of services at corporate rates, providing you with a better healthcare experience.
More Affordable Clinic Fees
You no longer pay walk-in rates when you consult a doctor.
Use GetDoc App to search for Panel clinics. Scan QR Code and download the App free on Google Play Store or Apple App Store. Show in-App e-card at the clinic.
Choose from continuously expanding GetDocPlus panel of clinics, whether it's a medical necessity, a dental emergency or any other healthcare needs.
Simply use the GetDoc App to make an appointment according to your preferred date and time. Anywhere. Anytime.

GetDocPlus members enjoy members-only rates.

GP Consultation at $15.00 (before GST) or $16.05 (after GST).
Health Screening packages to suit your needs.
GetDocPlus corporate rates apply.
Dental Scaling & Polishing at $80.00 (before GST) or $85.60 (after GST). GetDocPlus rates are available for other Dental treatment.
GetDocPlus rates apply for Physiotherapy, Osteopathy, Nutrition Services, Antenatal Services, Optical Services and more.
*Fees listed exclude medication.
Team 361 is an official authorised partner of GetDocPlus. Being a leading cloud integrator, we are proud to represent multiple software solutions. We provide unbiased recommendations and will only propose the most appropriate and value-for-money solutions for you, including the information on relevant grant support available.