When the Covid-19 pandemic hit Singapore in 2020, companies globally were forced to adjust to new ways of working. The traditional 9 to 5 timing was replaced with odd and random working hours. Digitalisation was posed as the only solution for companies to adapt and move on.

For Entrust, an accounting corporation in Singapore, it had to rapidly change its mode of operation. Physical paperwork which the teams had to work with on a daily basis was no longer feasible. The company had to make quick changes and evolve accordingly so as not to disrupt their existing projects.

HelloSign, an online e-signature platform, came to the aid. The sheer simplicity of the solution gave ample confidence to the management of Entrust for them to go onboard in just 2 short days. With HelloSign, employees are now able to get rid of the extremely time-consuming process of signing on each and every page of lengthy documents. From 2 weeks, Entrust can now complete the entire signatory process in just 2 days!
In addition to improved productivity that came along with time savings, Entrust was also able to go green and eco-friendly with reduced printing. Cost went down significantly and the need to order printing materials was cut from once per week to only once per month.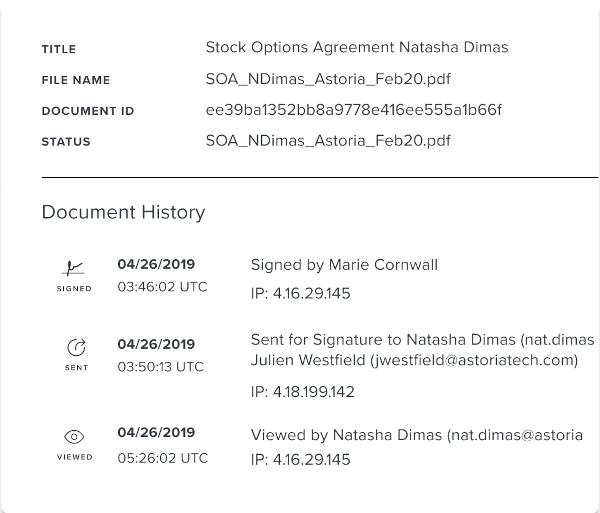 Finally, with HelloSign's complete audit trail feature, Entrust was able to monitor the flow of signatories and this gave them the much needed reassurance on the dates and parties of signatories. Such a feature removes the reliance on costly courier services in Singapore too.
Do you know that HelloSign can also be integrated with Microsoft Sharepoint to boost its efficiency?
You may now send an endless number of documents for eSignatures without ever leaving your Microsoft SharePoint workflow.
With HelloSign for SharePoint, you can:
Choose documents straight from SharePoint to transmit for legally binding eSignatures;
Reduce the number of times you need to move documents between apps;
and save signed documents in SharePoint folders for easy organization.
SharePoint's enterprise-grade security and compliance capabilities are one of its most appealing features, therefore every application that connects to your SharePoint site has to be just as secure. That is why HelloSign protects each document with cutting-edge security features. These are some of them:
Direct SharePoint integration reduces the number of times you have to transfer documents between apps while keeping them safe in the SharePoint document library.
Every transaction is tracked and time-stamped via audit trails.
Every document has two degrees of encryption. Each document is encrypted with a unique document encryption key (DEK), which is then encrypted using a master key that is rotated on a regular basis.
HelloSign for SharePoint is perfect for
Procurement Departments
It's difficult to keep track of purchase orders when you're in charge of submitting, reviewing, and signing them—especially in a remote environment.  That's why SharePoint's ability to organize and maintain purchase orders within a single application is so beneficial.
HR departments
Because SharePoint is safe, you use it to store HR papers, automate onboarding, and conduct performance assessments. So, why risk any of this data by exporting it to a different program before sending it out for signature?
HR departments can get legally binding signatures on offer letters, onboarding forms, and employee documentation right from their SharePoint site thanks to the HelloSign for SharePoint connection.  Furthermore, because there are no manual steps involved, there are less opportunities for mistakes to occur.
Check out this link for more benefits of HelloSign! You will be surprised to know the other numerous interesting features within HelloSign!

If you wish to explore HelloSign and see how it can help your business, contact us at 6515 7906 or enquiry@361dc.com.