In Singapore's bid to curb the recent Covid-19 community cases, the government has introduced the Phase 2 (Heightened Alert) measures, such as no dine-in allowed in F&B outlets and capacity control in recreational and attraction facilities etc. These measures, which take effect from 16 May to 13 June 2021, have impacted many local businesses.
In order to help the affected businesses and to protect the economy, the government has once again launched a $800 million support package to provide some relief.
1. Enhanced Jobs Support Scheme (JSS)

(a) 50% wage support for F&B, Sports and Performing Arts, such as physical F&B outlets, gyms and fitness studios, performing arts groups, arts education centres etc
(b) 30% wage support for Retail, Family Attractions and Personal Care Services, such as physical retailers*, cinema operators, museums, art galleries, historical sites, family entertainment centres, indoor playgrounds and affected personal care services
* Supermarkets, convenience stores and online retailers do not qualify
The enhanced support will only be for the period 16 May to 13 June 2021.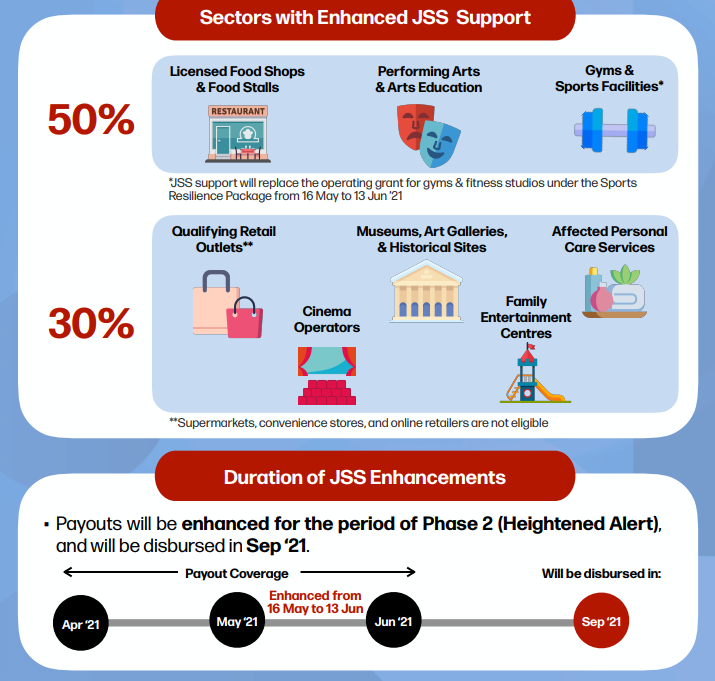 2. Rental Support for SMEs & NPO Tenant Occupiers of Commercial Properties
(a) 0.5 month rental relief cash payout will be disbursed by IRAS to qualifying tenants
(b) 1 month rental relief for qualifying tenants of government-owned commercial properties
Some landlords of privately-owned commercial properties have given rental waivers or rebates to support their tenants during this period. Tenants of government-owned commercial properties are required to pass down the rental relief to their qualifying sub-tenants.