As part of Singapore's continuing quest to move towards digitalisation, the government has launched yet another new initiative to further promote the cause for newly registered businesses in Singapore. Known as the Born Digital Proof of Concept (POC), the initiative aims to encourage newly registered businesses to start transacting digitally and connect with the growing digital ecosystem.
Who Can Apply?
All businesses that were newly registered between 1 June to 30 September 2022 are eligible to apply for the Born Digital POC.
How Much Can You Get?
A once-off incentive payout of $100 will be given on a first-come-first-served basis, and will be paid out to the corresponding PayNow Corporate accounts upon the successful submission of test e-invoices.
Complete these 3 steps before 31 October 2022!
Step 1: Get InvoiceNow and PayNow Corporate Account
Work with your Solutions Provider to register your business and activate the InvoiceNow feature within your accounting system (e.g. Xero). Ensure that you have successfully set up a PayNow Corporate account with any of the participating banks in the list below.
ANZ

Bank of China

BNP Paribas

CIMB Bank Berhad

Citibank Singapore Limited

DBS Bank/POSB

Deutsche Bank

HSBC

Industrial and Commercial Bank of China Limited

J.P. Morgan

Maybank

OCBC Bank

Standard Chartered Bank

Sumitomo Mitsui Banking Corporation

UOB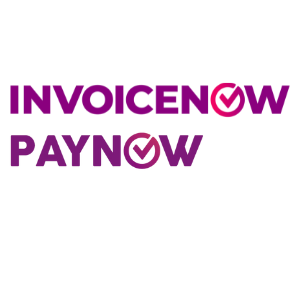 Step 2: Send A Test E-Invoice
Upon registration to the InvoiceNow network, send your very first test e-invoice to the IMDA Born Digital Peppol ID. In the test e-Invoice, input your company's email address as a line item and fill in the other mandatory fields. 
Send the test e-invoice to

IMDA Born Digital Peppol ID <0195:SGUXNT16GB0004KBD1>

Indicate the

main contact email address

in the 1st line item name field.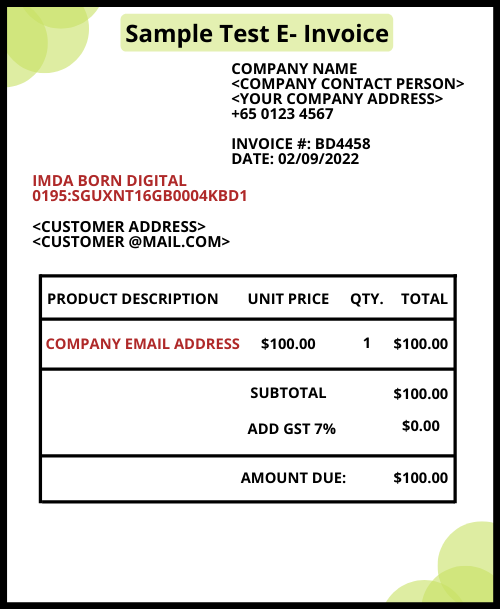 Step 3: Receive $100 Payment
Upon successful submission of the test e-invoice, IMDA will send a confirmation email to the email address which you have provided. The $100 incentive payout will then be credited to your PayNow Corporate account within 1 month from the date of your submission.
What if your newly registered business is not linked to any accounting system?
Simply contact us and subscribe to Xero, one of the highest sought-after accounting solutions in Singapore, and enjoy up to 70% funding support through the Productivity Solutions Grant (PSG)!
Xero is one of the most popular accounting software among local SMEs. It enhances accounting processes with useful features such as automated bank reconciliations and multiple currencies. Adopting Xero enables your business to complete transactions digitally and keep up with the fast-paced digitalisation of Singapore businesses.
Get in touch with one of our friendly consultants at 6515 7906 or enquiry@361dc.com to arrange for a FREE Xero demonstration!