Covid-19, with its need for social distancing, has greatly boosted the take-up rate of contactless technologies throughout many industries. Likely to be the most popular choice, many retail and F&B businesses in Singapore have adopted self-service kiosks and integrated them into an indispensable part of their operations. It has become a common sight to find kiosks in malls, restaurants and even hotels. Such infrastructure has provided huge improvements for businesses who have been looking for ways to modernise their operations.
1. Contactless
Kiosks enable contactless transactions, providing businesses with a way to service their customers even with restrictions in place.
2.  Efficiency
Transactions that require human contact such as travel check-in, ticket dispensing, and bill payments can be all fully automated using kiosks. This frees up manpower to assist in other areas, especially ones that require personal attention from employees.
3. Customisability
Kiosks can be configured to perform different tasks such as providing directory information, dishing out queue numbers or simply ordering of food.
4. Operational 24/7
Being able to operate throughout the day (and night), kiosks can continuously offer products, provide services and market your business without any downtime.
5. Attractive Showcase
Kiosks can be designed creatively to showcase your brand and to attract people to your shopfront. Such aesthetically pleasing kiosks can also serve as a channel to market your products better.
Where can you find Kiosks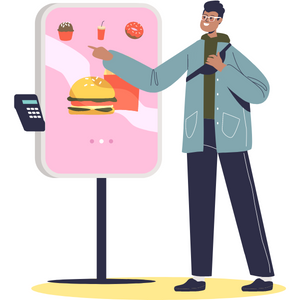 1. Hotels
Kiosks can be used to automate self check-in for customers. They can also provide useful information such as directions and bookings availability. WIth self check-ins being done, the workload of the receptionists can be eased significantly and they can then be deployed to other hotel areas that require physical manpower.
2. Restaurants
Kiosks allow customers to place and customise their orders in advance, even before entering the restaurants. They can also be used to manage large crowds during peak hours, effectively reducing long waiting lines and cutting down on queue times.
Kiosks can also be used for direct and targeted marketing. It can display promotions and showcase menu items to upsell more items. Lastly, Kiosks enable contactless ordering which adheres to social distancing measures during this period.
3. Retail
Kiosks can help customers to locate products within the store, issue queue numbers and provide self-checkout. This makes it easier to manage a high amount of customers during store peak periods.
By placing kiosks at store entrances, businesses can also reach out to more potential customers. The kiosks can draw passersby into the store by prominently displaying the latest products and offers.
4. Salons
Kiosks can be used to educate customers about salon products and beauty tips.
They can also provide a self-ticketing function,where customers get live queueing updates from their mobile phones. Customers in line can also efficiently spend time on other activities first while waiting for their turns. In addition, the kiosks can also help customers with automatic payments without assistance from the hairdressers. Lastly, the kiosks can be used as a means to gather feedback and testimonials from customers.
Get a demonstration today!
View our Kiosk options here. Contact us at 6515 7906 or email us at enquiry@361dc.com for demonstration today!