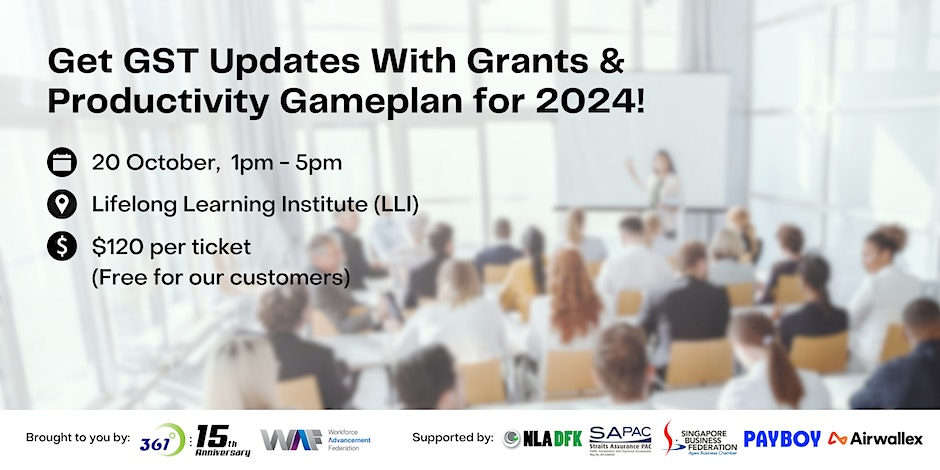 GST Updates, Grants & Productivity Gameplan 2024
Prepare yourself for the upcoming hike!
Register Here!
Date & Time
Friday, 20th October 2023 13:00 – 17:00 +08
Location
Lifelong Learning Institute – Learning Hub in Singapore
11 Eunos Road 8 Singapore, 408601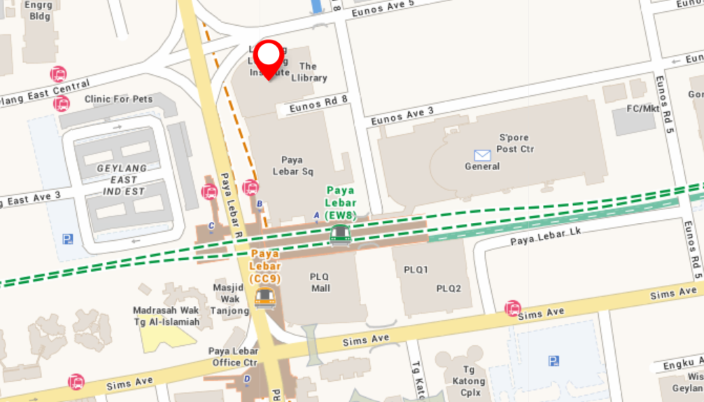 About this event
Future Proof Your Business! Get GST Updates, Together With Grants & Productivity Gameplan for 2024
With the upcoming GST hike, is your business ready and adequately prepared for the changes that follow? It is with great pleasure that we extend an exclusive invitation to you for an insightful seminar focused on one of the most significant economic developments in Singapore – the Goods and Services Tax (GST) hike. It is essential for GST-registered businesses to get themselves fully compliant with the new regulations. Any non-compliance will result in greater fines or even stiffer penalties.
In today's environment, Digital Transformation has fast become a critical part of our business and are your operations ready to embrace the latest automation so as to propel to the next level? For an added boost, how about tapping on some of the current government grants to gain some competitive advantage?
We believe it is important for our clients to be kept well-informed on the latest developments and to prepare themselves for the potential implications on their businesses and conduct proper financial planning ahead of time.
Join us at the seminar to learn how you can confidently manage the GST hike while at the same time, observing strict IRAS regulations. This half-day seminar will also bring you deeper insights into how grants and automated solutions can boost your business productivity and operations.
Agenda
1. GST Tax Hike
How to handle GST increase from 8% to 9% in 2024
How to prevent common mistakes in GST hikes
Managing different GST scenarios
Hands on exercise & interesting quizzes
2. Latest Government Grants
Career Conversion Programmes (CCP)
Progressive Wage (PWM) Model
NTUC Company Training Committee (CTC) Grant
Productivity Solutions Grant (PSG)
Enterprise Development Grant (EDG)
Part-Time Re-Employment Grant
(Sharing by Workforce Advancement Federation (WAF) & Singapore Business Federation (SBF))
3. Productivity Solutions
New Updates in 2023 & Tips for Xero Accounting Software
5 automation solutions that you must have to increase productivity by 200%
What is RPA (Robotic Process Automation) & how you can use it to automate repetitive tasks
Integrating different software solutions to achieve seamless connections
Venue
Lifelong Learning Institute, Lecture Theatre, Level 2
11 Eunos Road 8, Singapore 408601
Next to Paya Lebar MRT
Time
1pm to 5pm
(Refreshments will be provided)
Who Should Attend?
Business owners who wants to have updates on Grants, Tax & Latest Technologies
CFO, Finance Managers who want to have deeper understanding on GST hikes
Operation Managers who want to simplify workflow and save cost
Anyone who wants to improve productivity
Register Here!
Organised by 361 Degree Consultancy and Workforce Advancement Federation.
Supported by NLA DFK, Straits Assurance PAC, Singapore Business Federation, Payboy and Airwallex.